Summerweight Potato Salad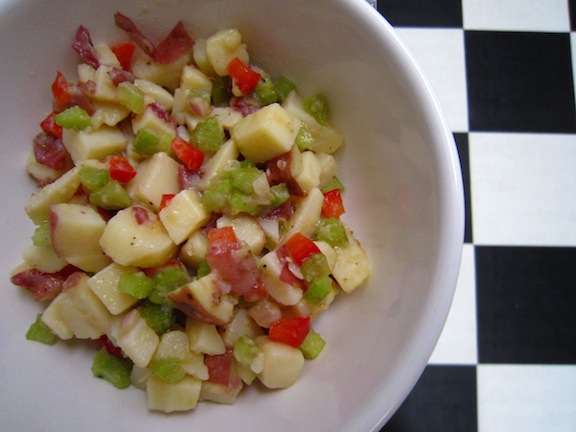 Author Notes: Lighter than her mayonnaise draped counterpart, this little number can beat the heat and won't leave you feeling like you might sink the boat after a summer lunch of beer, beans and bratwurst… - checker
Serves 6
3

small red potatoes

2

large stalks celery, minced

1/2

cup red onion, minced

1/2

cup red pepper, minced

1

teaspoon dried parsley (See note.)

1/4

teaspoon brown sugar

1/8

teaspoon garlic granules

2

tablespoons lemon juice

1

tablespoon balsamic vinegar or white balsamic vinegar (See note.)

salt and pepper
Wash the potatoes and boil them until just tender.
Once cool enough to handle, mince the potatoes and combine them with the minced celery, red onion and red pepper.
Combine the remaining ingredients until well mixed and gradually pour over the vegetables gently stirring until everything is coated and well flavored. You may not need all of it or you may need more, depending on how much the potatoes absorb or your particular taste.
Note. I have tried this with both fresh parsley and garlic and dried parsley and garlic. For some reason I find that I prefer the dried version, probably because they don't overwhelm the other flavors quite as much. That said, keep in mind that you are essentially creating a vinaigrette for this salad, and you may find that you need more or less depending on your ingredients. And of course, use fresh ingredients if you prefer.
Note. I prefer to use the white balsamic vinegar for this, purely for aesthetic reasons. The regular balsamic tints the potatoes a little, and the white balsamic leaves them looking pale and refreshing. But, white balsamic vinegar can be an unnecessary extravagance and the regular stuff tastes just as good. As always, it is your decision.
Tags: colorful, light, picnic, potato salad, serves a crowd, Summer, travels well, withstands heat