Chilled Raspberry- Blueberry Gazpacho.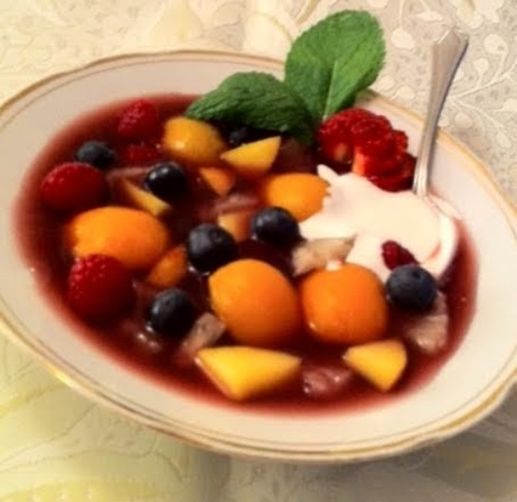 Author Notes: In the summer, when my grandchildren are on vacation, and there is such an abundance of fruit and berries, I try deferent ways to push-in as much in them as I can. Instead of just putting a plate with fruit in front of them, and reminding every minute to eat at list some, I make fresh fruit and berries salads or this kind of Gazpacho.
I find that it is also a great dessert for hot summer weather.
The Gazpacho can be made in advance and in many variations, such as melons, grapes, cherries, blackberries or what ever is in season and toped with ice cream or sour cream.
Here is one I made today.
- Kukla
Serves 10-12
• 12 ounces fresh blueberries, washed and stems removed

• 12 ounces fresh raspberries

• 2 cups 100% grape juice (not from concentrate)

• 3/4 cup sugar

• 1 tablespoon fresh ginger finely grated with a zester

• 1 lemon juiced

• 1/2 cup freshly squeezed orange juice

• 2 cups fresh fruit (apricots, raspberries, pineapple, strawberries, and plums) chopped

• Fresh mint or basil, julienned

• 1/2 cup coconut milk mixed with 1/2 cup whole-milk Greek yogurt toping and 1 tablespoon sugar or honey (optional), for toping Gazpacho
In a blander or food processor combine raspberries, blueberries, ginger and sugar, process until almost smooth.
Add grape, orange and lemon juice, process for about 2 more minutes, then strain to a large bowl or pitcher and refrigerate until very cold.
To serve, ladle into bowls, garnish with the chopped fruit. Top with the coconut milk and yogurt mixture and sprinkle with mint. Add some more lemon juice right before serving to brighten the flavor.
Tags: delicious, nutritious, refreshing