Pink Peppercorn-Strawberry Sorbet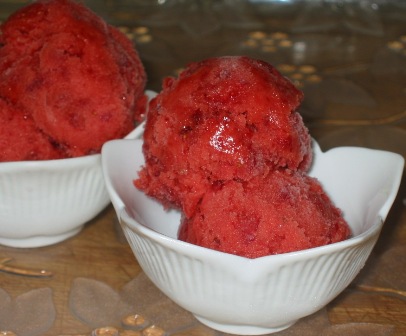 Author Notes: Cheers to fellow cooks! A couple years ago I was inspired by hardlikearmour's Pink Peppercorn Macerated Strawberries and a generous sampling of the peppercorns from AJ, to modify my Himalayan Blackberry Sorbet and make this recipe; this contest is a perfect opportunity to share with the F52 community!

A combination of ingredients, low glycemic coconut nectar (see link below) and honey emulsifies nicely and the alcohol helps its freezing process achieve a silky, soft consistency that holds together beautifully when scooped.

This wild tasting sorbet makes a cool and refreshing strawberry treat on a hot summer day! - lapadia
Makes 1 quart
1/4 cup coconut nectar

FYI, here is a link to the Coconut Nectar I like to use: http://coconutsecret.com/nectar2.html

1/3 cup honey

Plus: 1-2 tablespoons extra honey to amp up sweetness (optional)

1/2 cup warm water

1 tablespoon fresh lemon juice

2 tablespoons Creme de Cassis

3 cups macerated strawberries (see link below)

http://food52.com/recipes/12912-pink-pepper-macerated-strawberries

OR - if you prefer plain strawberry - 3 cups plain strawberries, hulled & chopped
Per instructions using a Cuisinart Yogurt-Ice Cream & Sorbet Maker, place the freezer bowl into the freezer overnight.
Combine the nectar, honey, water, lemon juice and Creme de Cassis, whisk until incorporated. I like using a container with a spout and handle, easier for pouring, later.
Test the sweetness and adjust to your taste by stirring in extra honey, one tablespoon at a time.
Place the macerated or plain strawberries into the blender and then the honey-nectar mixture, puree until smooth. This will take about 30 seconds, depends on your blender.
Pour puree back into the container with spout.
Chill the puree in the freezer about 20 minutes.
Place the freezer bowl and sorbet maker attachments onto the machine, turn ON; stir the puree a couple times, then pour into the freezer bowl and let churn until thickened, about 25 – 30 minutes. The sorbet will have a soft texture at this point.
Cover the sorbet and place the bowl back in the freezer or transfer to an airtight container and freeze until firmer – if you can wait.
To serve: place a scoop of sorbet into bowls sprinkle with crushed pink peppercorn – optional.
Jump to

Comments

(

22

)