Salmon on Avocado Cream with Salsa Fresca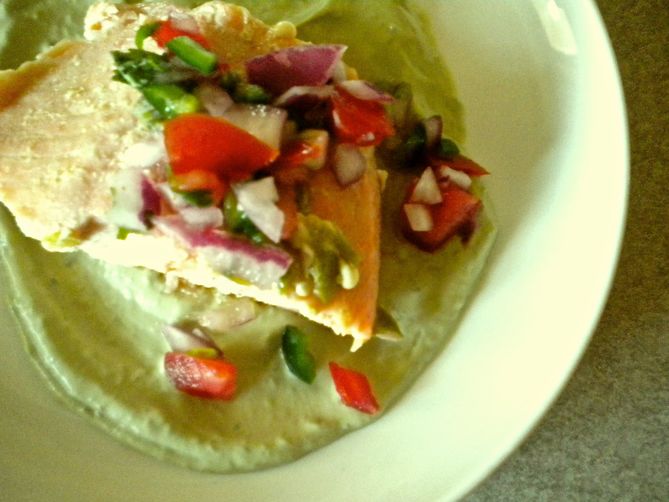 Author Notes: We love our salmon cool or at room temperature...Cook it early in the day and then serve it up on a warm summer evening. This one brings a little warmth to the tongue. - inpatskitchen
Serves 4
The salmon and avocado cream
4

six to eight ounce, boneless, skinless salmon fillets

2

limes

1

tablespoon salt, divided

3 jalapeño peppers, seeded

2

medium avocados

1/2

cup sour cream

1/4

cup half and half

Olive oil for brushing the baking dish
First prep the salmon by brushing a little olive oil on the bottom of a 9 x 13 inch baking dish. Place the salmon fillets in and sprinkle with the juice of one lime,half the salt and one finely diced jalapeno. Cover and refrigerate for about 30 minutes.
Meanwhile make the avocado cream by placing 2 chopped jalapenos, the avocado meat, the juice of the second lime, 1 1/2 teaspoons salt, the sour cream and the half and half in the bowl of a mini processor and process until smooth. Cover with plastic wrap by placing the film directly on the cream and refrigerate.
In a 425F pre-heated oven, roast the salmon for about 15 minutes until done. Cool and then refrigerate.
Salsa Fresca and Service
2

cups seeded, cored and finely diced tomatoes

1 1/2 cups finely diced red onion

3

finely diced jalapeño peppers, seeded

1/2

cup minced cilantro

Juice of one lime

1

minced garlic clove

Salt and pepper to taste
Combine all ingredients and refrigerate for about an hour.
When ready to serve spread 1/4 of the avocado cream on a dinner plate, place a salmon fillet on the cream and spoon some of the salsa over. Repeat 3 more times.
Jump to

Comments

(

6

)