20
Save
If you like it, save it!
Save and organize all of the stuff you love in one place.
Got it!
If you like something…
Click the heart, it's called favoriting. Favorite the stuff you like.
Got it!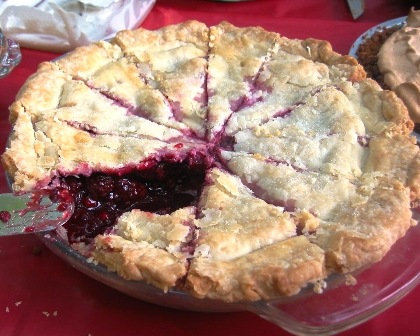 Author Notes: Love the pies at the fair and my addition would be berry, of course! A couple weeks ago I attended a pie event with online friends and even a few F52ers! This is the pie I brought…it was a Raspberry-Blackberry Pie-a-dise! A tweaked version of my blackberry pie. Note: just in case you are wondering - other F52ers attending were hardlikearmour, vvvanessa and her sister vrunka, who was a co-host of the event. - lapadia
Makes 1 10-inch pie
CRUST - prepare the all butter crust (below), your favorite recipe or a pre-rolled
1 cup unsalted butter, cubed and chilled

2-1/4 cups all-purpose flour

1 teaspoon salt

8-10 tablespoons ice water
Put the butter, flour and salt in the food processor, pulse lightly until the mixture resembles wet looking particles (some recipes say pea sized). Add water, 1 tablespoon at a time, pulsing a couple times after each tablespoon. Keep adding water until the dough just starts to gather into larger clumps. Split the dough in half and place each into a re-sealable plastic bag, pat each into a disk. Let the dough sit in the refrigerator 30 minutes.
FILLING INGREDIENTS
2 cups raspberries

2 cups blackberries

3/4 cup blackberry honey

1 tablespoon fresh lime juice

3 tablespoons instant tapioca

Optional - up to 1/4 cup super fine sugar, to your taste, if needed

2 tablespoons unsalted butter
Preheat oven to 375 degrees.
Wash and the drain berries. Add the sugar, honey, lime juice and tapioca; taste test before adding any additional superfine sugar. Stir and let sit 15 minutes so that the little tapioca balls have time to soften.
Place the bottom crust in a 10 inch pie plate. Add the berries with a slotted spoon, this will leave some juice, that's ok, the pie will be juicy enough.
Dot the berries with unsalted butter.
Cover with the top pie crust. Crimp the edges. Brush with a milk/cream mixture. Poke air vents throughout.
Cook for 50 to 60 minutes, until the crust is browned and the filling is bubbling.
Jump to

Comments

(

37

)
Tags: Berry good!