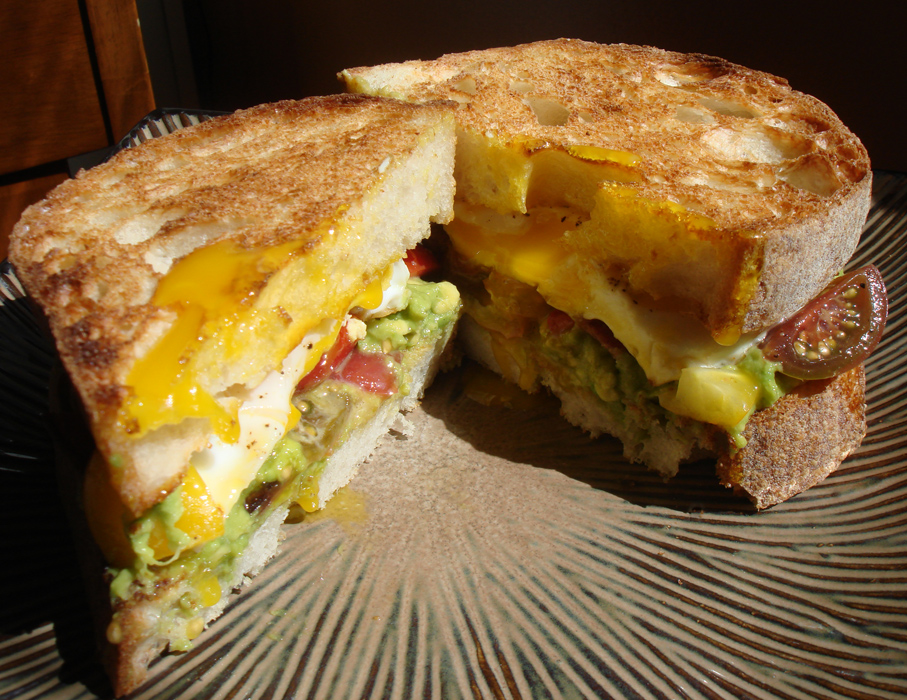 Author Notes: Full disclosure: I am not a morning person. It is hard for me to get going in the morning, and more often than not breakfast is coffee & something super-quick, like a pre-packaged breakfast bar or bowl of cereal. Some days I need something more substantial, but I still don't want to spend a bunch of time in front of the stove. Enter the breakfast sandwich. This version combines bacon, egg, avocado, and cherry or grape tomatoes. I find that cherry tomatoes pack more flavor per bite than slicing tomatoes most of the year. If you have some good heirloom slicers, feel free to substitute. This sandwich comes together pretty quickly. The prep work is done while the bacon is frying and the assembly is done while the eggs are frying. Applying the mashed avocado to both slices of bread helps decrease the mess factor, but do be careful so you don't have to change your shirt before you head to work! - hardlikearmour - hardlikearmour
Food52 Review: I just finished a dinner of hardlikearmour's heavenly sandwich along with a good salad. With the tender, oozing yolks it's wonderfully messy to eat, so when you make it, and you should soon, plan to be licking your fingers a lot. It's one of those things where no one ingredient stands out above the others; rather each is essential to the whole experience. Whether you let it help lead you into sweet dreams, or to launch yourself out the door in the morning, this sandwich will help you to feel wonderful. - boulangere - boulangere
Makes 2 sandwiches (but is easily scaled down to 1)
2

slices thick cut bacon

1/2

large Hass avocado

2

teaspoons lemon juice

table or fine sea salt

10 to 12

cherry tomatoes

4

thick slices of Batard or your favorite sandwich bread.

2

eggs

freshly ground black pepper
Place your bacon into a cold frying pan, and heat over medium heat until crisp, turning occasionally.
While the bacon is cooking, combine the avocado, lemon juice, and 1/4 teaspoon salt in a small bowl. Mash together with a fork, until fairly smooth. Set aside.
Wash and quarter your cherry tomatoes. Push to one side of your cutting board. Line the other side of the cutting board with 2 layers of paper towels for draining the bacon.
Toast your bread when bacon is close to being done. Crack your eggs into a small bowl, and set aside.
Remove bacon to the paper towels. Pour off all but a tablespoon or two of the bacon grease (save it for other uses!) Fold the paper towels over top of the bacon, and pat to remove most of the grease.
Pour the eggs into the frying pan, and sprinkle with salt and pepper. Place a lid over the eggs, and allow to cook until the whites are set, but the yolks still runny (or to firm yolks if that's what you like.) This will only take a few minutes.
Divide the mashed avocado between the 4 slices of bread, and spread in an even layer on each slice. Divide the cherry tomatoes between the 2 "bottom" slices of bread. Sprinkle with salt and pepper. Crumble a slice of bacon onto each "top" slice of bread.
Place an egg on top of the tomatoes, and add the "top" slice of bread. Slice with a serrated knife, or eat whole. Enjoy a great start to your day!
Jump to

Comments

(

49

)