"Vermont" Roast Pork Loin - 2 Ways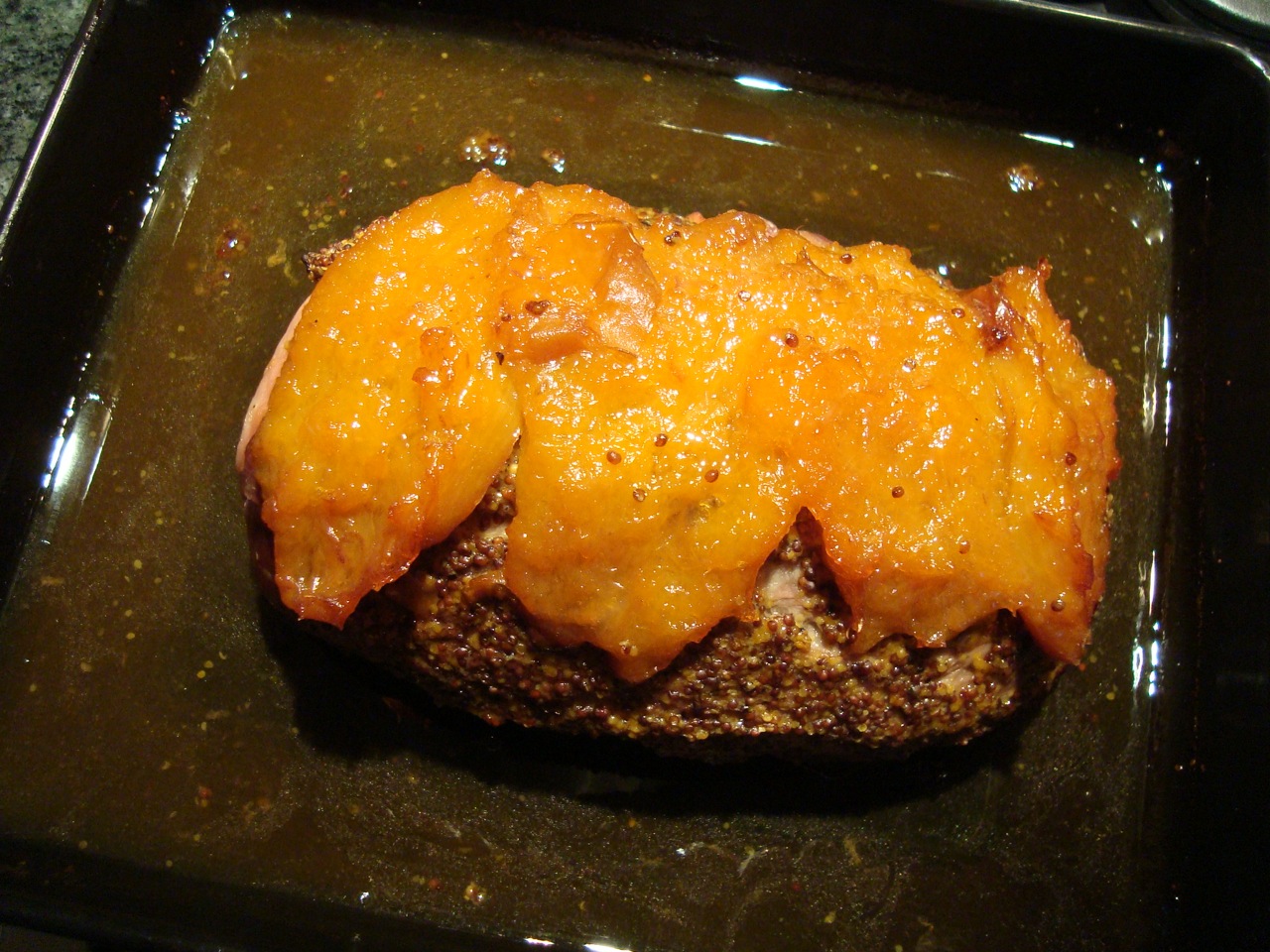 Author Notes: This roast loin is a frequent main course in our house during the autumn, but nice enough for company. It evolved as I combined two Vermont commodities - maple syrup and apple cider - to create the flavor base. That's the simple version. The "fancier" version allows the cook to use brandied or boozed fruit and its syrup to make a nice topping that caramelizes on the pork, and adds a touch of festivity. The preparation is very simple, and if you like a pork roast with a sweet profile, this is perfect. - Bevi
Makes 4 portions
For the Simple Pork Roast
3 to 3.5

pounds pork loin

1

teaspoon good salt and ground pepper, each

1

cup white wine

1

cup apple cider

about 1

cups country mustard, or your own homemade version

about 1/3

cups Grade B maple syrup
For a Brandied Fruit Pork Roast
All of the ingredients above, EXCEPT the maple syrup, plus:

1 or 2

large brandied peaches, and their syrup, about 1 cup (you can also substitute about 4 brandied apricots
Preheat oven to 350 degrees. Place the pork loin in a small roasting pan. Salt and pepper liberally, and then pour the wine and apple cider into the pan. Then, use a spatula to spread the mustard all over the top and sides of the loin. ( As a safety precaution, do not repeatedly stick the spatula into the mustard jar after it has made contact with the loin.) Carefully pour, in a thin stream, the maple syrup over the mustard covered loin. Then, place the prepared loin in the middle of your oven.
After about 20 minutes, when you see that the mustard has crusted, spoon the pan liquid over the pork loin. Repeat this step occasionally. If you need to add more liquid to the pan, do so. The goal is to have a reduced sauce to serve with the pork loin.
It should take between 80 and 90 minutes for the roast to reach an internal temperature between 150 to 160 degrees. Use a meat thermometer to check for doneness, according to your preference. Take the roast out of the oven, cover with foil, and let rest for about 10-15 minutes. Slice the meat and pour a little sauce over each serving.
N.B. For a brandied fruit pork roast, omit pouring the maple syrup on the meat. Instead, pour the brandied fruit syrup over the roast, and proceed as above. After about 30 minutes, cut the peaches open, remove the pits, and "spread" the fruit skin side down over the top of the roast. Baste frequently. You may find that the fruit will caramelize quickly, and if that happens, cover with foil until the loin has reached the desired temperature. Let the loin rest, and when slicing try to serve with a piece of fruit topping each slice.
Jump to

Comments

(

3

)
Tags: brandied fruit, easy to prepare, holiday, nice for company, pork