Lamb and Sweet Potato Stew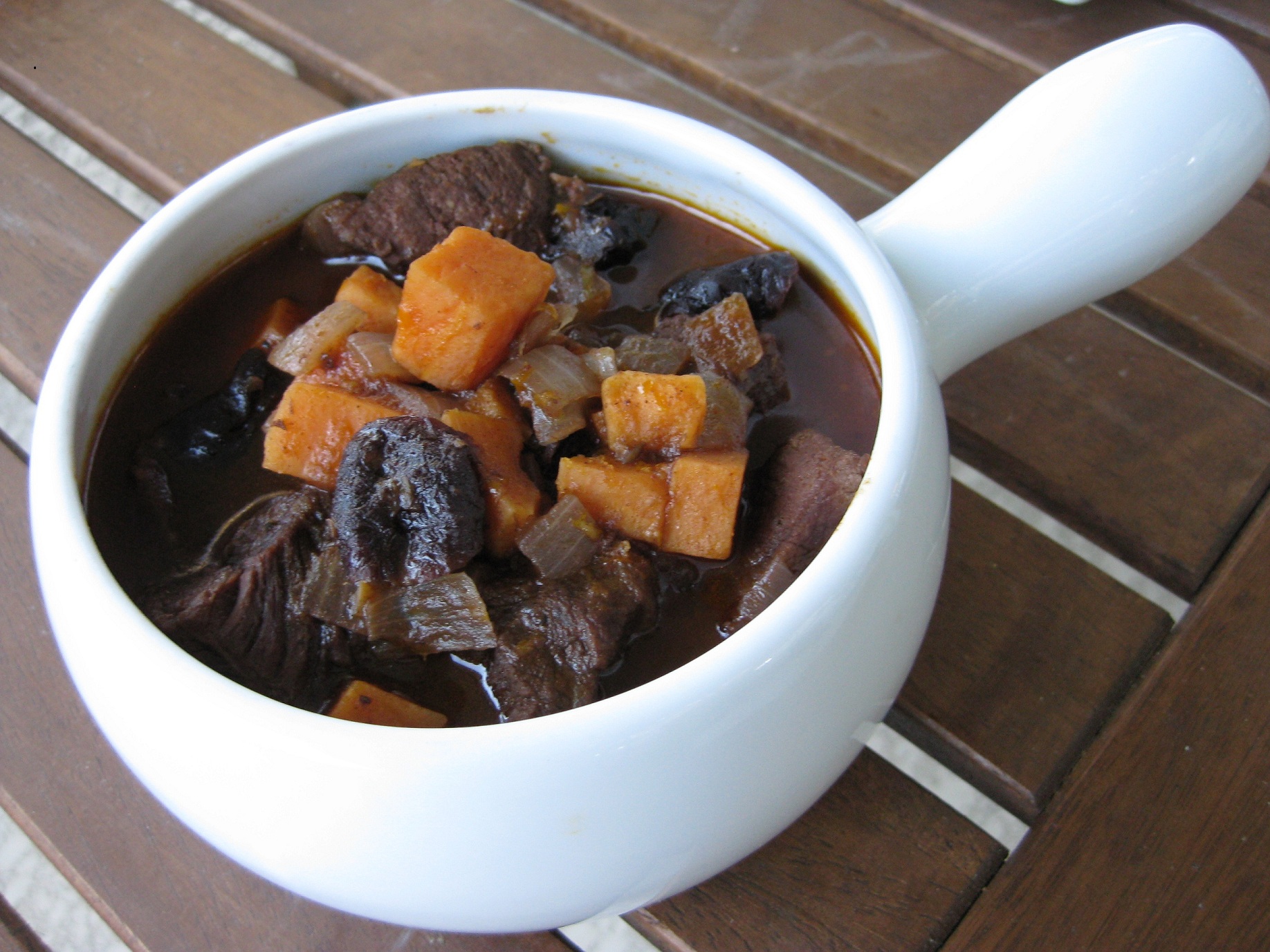 Author Notes: When the first chilly nights blow into Texas I am, naturally, driven to start stewing and roasting and baking ... lamb is often my protein of choice regardless of the season or weather. Here it is stewed in a slightly sweet, mildly smoky and most assuredly rich mix of good stuff - aargersi
Serves 4
1/2

teaspoon whole cumin

1/2

teaspoon whole white peppercorn

1/2

teaspoon smoked sweet paprika

1/4

teaspoon cinnamon

1/4

teaspoon turmeric

1

teaspoon salt, plus more

1

pound cubed lamb (leg or shoulder will work - mine was just labeled "all natural lamb for stew")

1

tablespoon olive oil

2

cups peeled cubed sweet potato - about 1/2"

1

cup diced onion

2

tablespoons tomato paste

1/2

cup dry red wine

1

cup chicken broth

6

prunes - quartered

zest from a lemon and an orange
Toast the spices over medium high heat - do the whole spices first for a minute or so, then add the ground ones, cinnamon last. It should smell pretty fanatastic. Put them in a grinder or mortar and pestle (I use the latter) and bash up the whole spices.
Toss the cubed lamb with a teaspoon of salt and the spices.
Heat the oil in your stew pot. Add the lamb and let it brown for several minutes. Push it aside and add the onion, and cook for a few more minutes until it starts to soften. Don't be alarmed by the fat and oil - you want that, trust me. Push that all to the sides and add the tomato paste. Stir to coat and cook it all until the tomato is caramelized - follow your nose, it will all smell deep and rich and not at all raw.
Now add the wine and broth and bring it to a simmer, then add the sweet potato. Simmer until the potatoes are tender, then taste and adjust the salt. At this point you can stop and let it all hang out on the stove if you aren't ready for dinner - it will just get better.
Add the prunes to the simmering mixture. Zest in half the lemon and half the orange, stir, and taste - decide if you want more lemon and orange. I did. This is a sweet-ish stew, so serve with lemon wedges, and some good bread. And wine.
Jump to

Comments

(

8

)