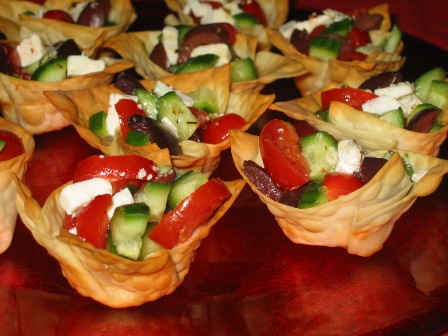 Author Notes: Horiatiki is a rustic Greek country salad; tomatoes, feta, olives and cucumber dressed with olive oil and oregano are some of the most standard elements in an "American" Greek version. I first started making it after seeing drbabs Food52 recipe; since then I've served it and taken it to potlucks, often, usually with my pita bread, it has been a very popular salad, always the first to go. I was inspired to make a one bite appetizer and thought why not the Mediterranean flavors of Horiatiki? These poppers are fancy, schmancy, easy to make and healthy! - lapadia
Makes as many as your heart desires
FILLING: ingredients are for 12-15 poppers

2 Persian or pickling sized cucumbers - 1 cup diced

12 Cherry tomatoes

12 Kalamata olives

12 Feta cheese cubes – a little smaller than the olive

Herbes De Provence (I prefer it to oregano)

Fresh ground pepper

Mini tart pan

15 Wonton Wrappers
Combine 3 tablespoons olive oil, 1/2 teaspoon Herbes de Provence and fresh ground pepper. Let the ingredients sit and infuse, give it a stir now and then.
Spray the wonton wrappers with a buttery spray (such as Pam) on both sides; line the mini tart pan with them pressing lightly into the middle to form a cup.
Bake at 350° until the edges are crispy and brown, about 10-12 minutes.
Let cool – for a make ahead see the note below.
Cut the filling ingredients into at least – thirds; toss with drizzles of the olive oil mixture and let sit in the refrigerator until ready to assemble.
About an hour before serving add filling to each wonton cup.
Serve.
NOTE TO MAKE IT AHEAD:
Prepare to the end of step 4 (up to 2 days ahead), store in an airtight container.
Next day, continue with step 5 up to three hours ahead.