Red-Pepper Taxicab Chicken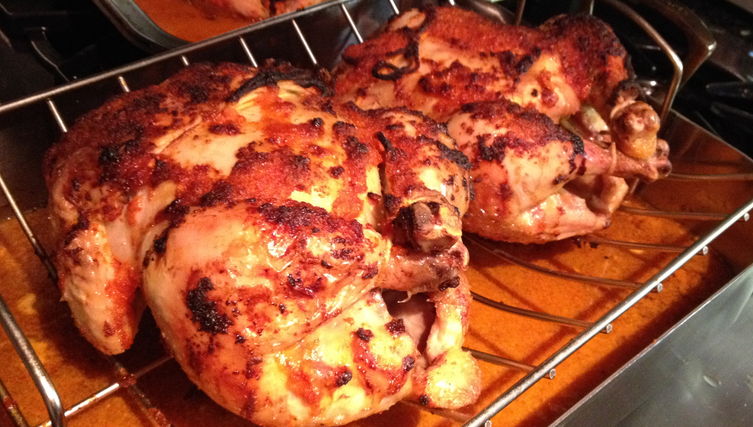 Author Notes: This chicken originated in a taxi ride with my young daughter. When televisions were first placed in the back seats of New York taxis (yes, we have t.v.'s in our taxis--we can't survive without a screen for the length of a car trip, apparently), the featured news programs used to broadcast neighborhood restaurant "reviews". There was a review of a Brazilian restaurant in the borough of Queens. A chicken was shown slathered in a garlic red-pepper puree and thrown on the asador as flames leaped up around the chicken parts. We could almost smell and taste it. We started to get hungry. When we got home, I was able to access the segment online and have another look. Since that time, I have made the marinade many times, but numerous searches online have failed to turn up that video, the name of the restaurant, or the recipe. Over time I've added the bay leaves and Aleppo pepper; fresh bay is completely different from dried and adds indescribable flavor. You can follow the recipe for one bird or three; extra puree can be frozen.
Well worth a NYC taxi fare: Red-Pepper Taxicab Chicken - creamtea
Serves 12-14
2

lemons (optional) if using whole chicken

3

3-1/2 lb. chickens, whole or cut-up, rinsed and patted dry with a paper towel

2

ripe red bell peppers, medium to large, seeded, quartered and coarsely chopped

1

head garlic, the cloves separated, peeled and coarsely chopped (remove the germ or sprout inside each clove, if desired)

3/4

cups red wine vinegar

3

fresh bay leaves, central vein removed and torn into pieces

1/2 - 1

teaspoon Aleppo pepper, if desired, or a small pinch Cayenne pepper

1/2 - 1

teaspoon sea salt or more, according to taste

1

cup olive oil
Pre-heat oven to 375º and lightly salt the chicken or parts. If cooking whole birds, place a lemon half per bird inside each cavity and tie together the legs with kitchen twine. Tie another piece of twine around the upper section, including the wings, to promote even cooking.
In the bowl of a food processor, combine the first 6 ingredients. Process until pureed, scraping down the sides as necessary
With motor running, slowly add the olive oil in a thin stream until incorporated.
If using whole chickens, place breast-side down on the rack of a roasting pan, slather the backs generously with the puree. At this point you can refrigerate to allow flavors to permeate the chicken for an hour or so. Pour some water into the roasting pan about 1-2 inches deep to prevent the puree from burning (directions for chicken parts are below).
Roast whole birds (in lower third of oven) about 25-35 minutes or until backs are browned; remove from oven. Turn breast-side up on rack and slather with more puree. Return to oven and roast until done, adding more water to bottom of pan as needed--this will create a bit of sauce. You may need to lower the heat to 350º if puree is starting to overcook or burn.
Check for doneness: an instant-read thermometer should read 165º in the thickest part of the thigh; pierce the breast meat with a skewer--juices should run clear; or hold up the whole birds vertically with a pair of tongs (use care!), allowing juices from cavity to drip into pan. Juices should be clear, not pink.
If using chicken parts, place in roasting pan(s) in one layer. Slather generously with puree. At this point you can refrigerate the chicken pieces for an hour or so to allow flavors to permeate. Roast in lower third of oven, lowering temperature to 350º as necessary, until juices run clear and an instant-read thermometer registers 165º.
Transfer to a heated platter; pour juices into a fat separator and pour into a pan set over low heat to warm briefly if desired. Carve or divide into parts and serve with pan juices on the side.