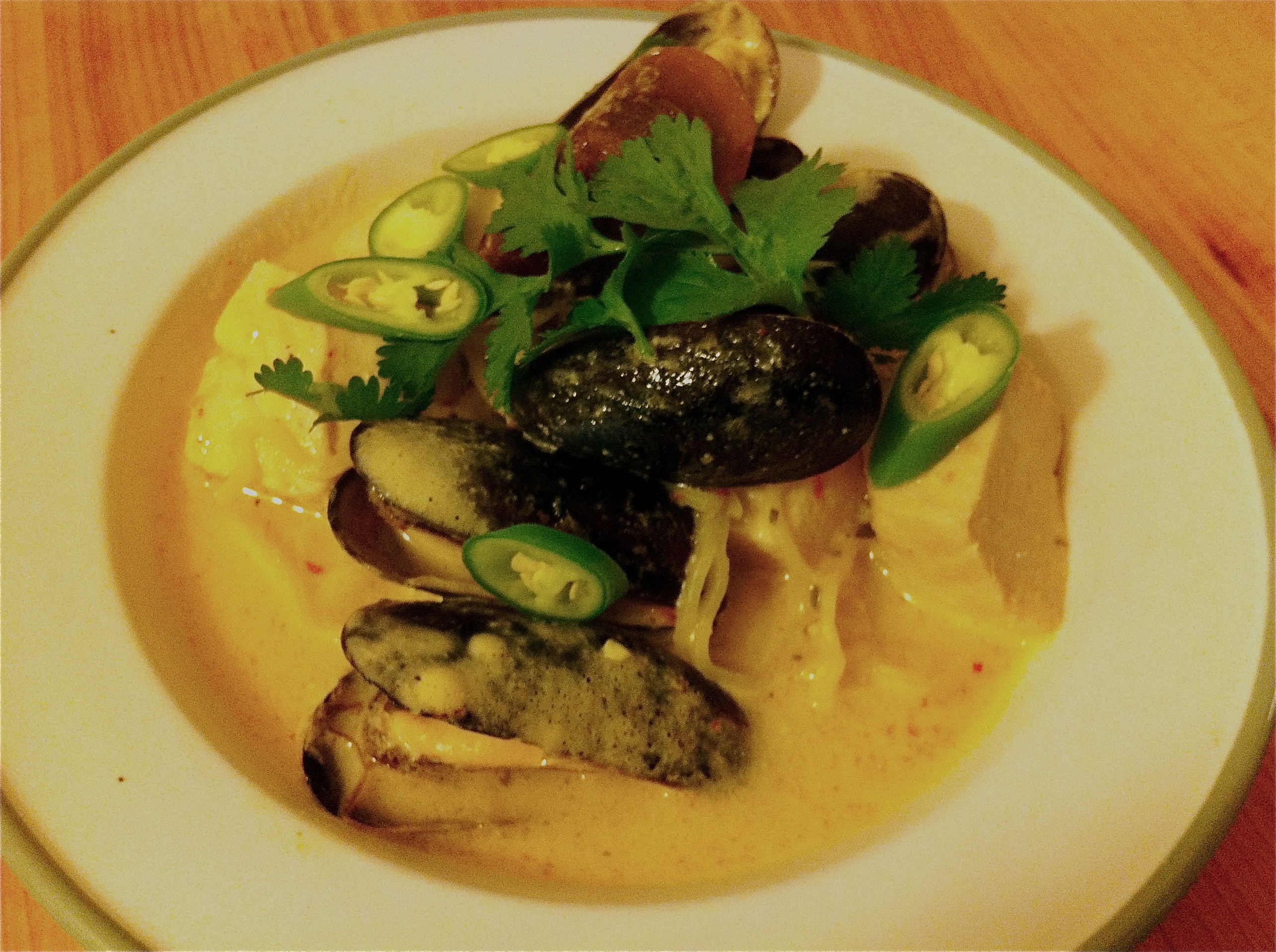 Author Notes: I've made curry fish stew and mussels in curry sauce, but it always turned out heavier than I would have preferred. A friend took me to a noodle house and it was there that I tasted a laksa for the first time. The best way I can describe it is curry light. It wasn't as heavy handed with the hot spices, but abundant in aromatics. The consistency of a light soup, and a zing of citrus that added brightness rather than heat to the curry. Its my favorite sauce preparation for mussels. - edamame2003
Serves 4
The Laksa Paste (can be made ahead of time)
1 inch

piece galangal or ginger

2

lemongrass stalks, cut into rounds

1

kaffir lime zest (or key lime)

4

kaffir lime leaves (or bay leaves)

2

dry guajillo or ancho chili peppers

1/4

cup shallot

2

cloves garlic

1/2

teaspoon coriander

1

teaspoon turmeric

pinches saffron (optional)

1/4

cup water
Place the dry chilis and saffron in hot water and allow to soften/steep. Add all the remaining ingredients and blend until smooth.
The Boullabaisse
2

lime juice

1

mandarin orange juice (3 calamansi can be substituted for the lime/orange)

4

cups fish stock (or water)

13.5

ounces can of coconut milk

fish sauce (or salt) to taste

palm sugar (or sugar) to taste

1/2

cup chopped tomato

1/2

pound firm fleshed fish (I used uku)

1

pound mussels

12

ounces noodles (ramen, rice, soba all work)

1/3

cup laksa curry paste

1

tablespoon grape seed oil

cilantro for garnish

sriracha, sambal olek, or fresh serrano for added spice
Place a Tablespoon of oil in a large stock pot and heat the laksa paste to release the fragrance. Heat for about 3-5 minutes, but do not brown.
Add the fish stock or water and bring to a simmer.
Add the tomato and simmer for another 15 minutes, or until tomatoes soften.
Add coconut milk.
Add cubed fish and mussels and cover to let mussels open.
Add citrus juice, fish sauce and sugar to taste.
In a separate pot, boil water and quick boil the noodles al dente.
Serve the laksa boullabaisse over noodles with cilantro garnish and optional sriracha, sambal oelek or fresh serrano peppers for spicier flavor.
Jump to

Comments

(

12

)