smoky chipotle vegetarian chili
20
Save
If you like it, save it!
Save and organize all of the stuff you love in one place.
Got it!
If you like something…
Click the heart, it's called favoriting. Favorite the stuff you like.
Got it!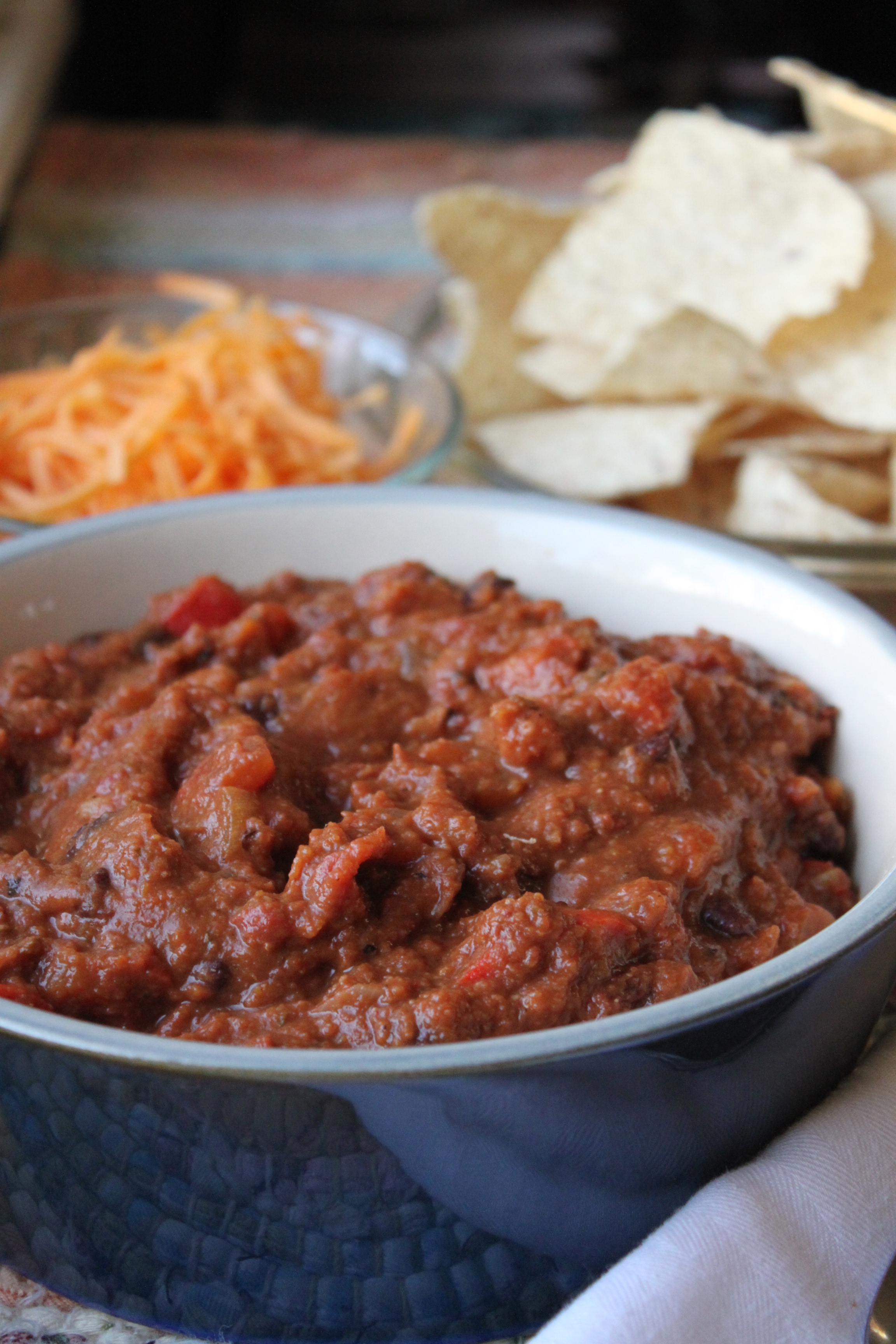 Author Notes: what's a pastry chef to do when the doctor keeps saying that the cholesterol numbers are a little high? well if that pastry chef were me, and she is, she is going to learn to make adjustments to the types of food she eats and also the way that they are prepared. honestly, it's a little difficult. while i love vegetarian dishes and could live on salads, i also enjoy things like beer butt chicken and flank steaks cooked on the grill. and lets really lay it all out here, a lot of so called vegetarian dishes rely on processed soy products to mimic the flavor and texture of meat and poultry and that isn't necessarily any better for you than the meat is. so after a little bit of practice using isa chandra moskowitz's latest book, appetite for reduction, i decided to mix up a batch of chili that even she might like to try.

one of the things about most vegetarian chilis that disappoints me is the use of a large quantity of lentils and beans. while they are generally tasty, they always seem like a bowl of beans to me. what i love about a classic beef chili is the stick to your ribs, chunky vegetable and spicy tomato-chile base that the beans and meat are surrounded by. while rummaging through the cupboards looking for the things i needed, i came across a can of pumpkin puree and a little light went off; finally, the one thing that i knew would add a heartiness to the chili without making it a bowl of beans!

the beauty of this recipe, you can alter it easily. want it real spicy add the full amount of the chipotles. like a lot of beans? add an extra can. want to keep it vegan? skip the shredded cheese or use a soy cheese. the addition of hominy helps to thicken the dish without adding the usual cornmeal. just make a batch and see for yourself; it is completely possible to make a bowl of chili and not miss the meat at all! - janeofmanytrade
Serves 4
1

medium onion, diced

1

bell pepper-any color, diced

2

cloves garlic, minced

1

tablespoon olive oil

2

tablespoons chopped fresh oregano

2

tablespoons chili powder

2

tablespoons chopped chipotle chilis (packed in adobo sauce)

2

teaspoons ground coriander

2

teaspoons ground cumin

1

(15oz.) can pumpkin puree

2

(14 oz) cans fire roasted diced tomatoes

1

(14.5oz) can crushed tomatoes

1 or 2

(15.5oz) cans beans-black, pinto or kidney

1

(15.5oz) can hominy-yellow or white

1

ounce unsweetened chocolate, chopped
in a large pot over medium heat, sauté the onion and bell pepper in the olive oil. when translucent, about 3-5 minutes, add the garlic and sauté for an additional minute.
stir in the oregano, chili powder, coriander, cumin and chipotle. reduce the heat to medium low and add the pumpkin, stirring to break it up.
add the diced tomatoes, crushed tomatoes, beans, hominy and broth and bring to a simmer. stir the chili often to prevent scorching.
add the chopped chocolate and stir to melt and combine it. allow the chili to simmer for at least an hour. salt as desired
now the fun part-eat it! however, if you let it sit a day, it will taste better. serve with the usual suspects: grated cheese(dairy or soy), sour cream(dairy or soy), tortilla chips, chopped onions...
Jump to

Comments

(

2

)