Maple Glazed Stuffed Pork Tenderloin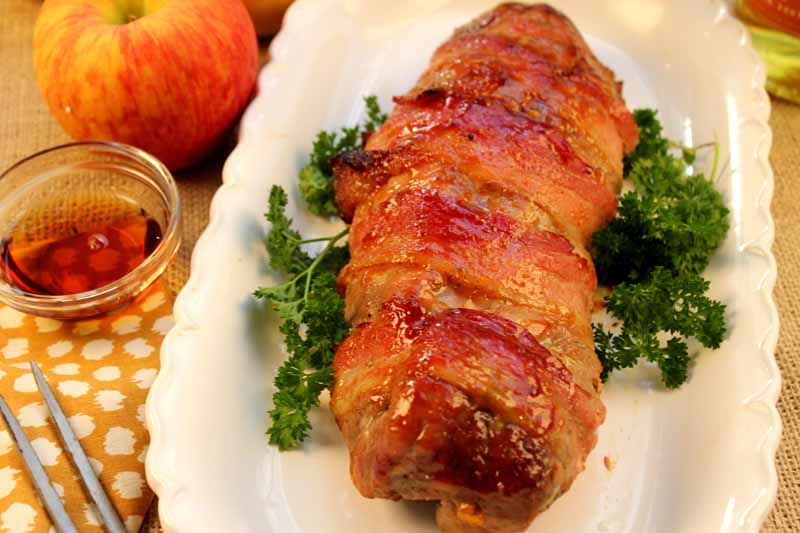 Author Notes: "Chopped" comes to mind as the genesis of this recipe. Getting ready to return to our cottage in Lake Lure for the Spring and Summer, the refrigerator and pantry needed to be emptied here in Florida. Frozen pork tenderloins, dried figlets and apples, a bottle of pear nectar and pure maple syrup were the basics with which I had to work. Granted, there was no disparate mystery ingredient in my basket, but I was determined not to buy one new thing.

My inspiration was a stuffed pork tenderloin from a fellow blogger that I had seen a few years ago. But the similarities are few.

The maple syrup is used both in the stuffing and drizzled over the tenderloins to create a beautiful glaze. The stuffing is sweet to compliment the pork and the wrapped bacon cloak adds a hint of smoke to the meat. This is a company worthy dish. - lakelurelady
Food52 Review: This dish was very good; as promised it delivered a sweetness in the stuffing and the bacon provided a welcome smokiness. Great leftovers too. I wouldn't change a thing! However, I did bake the extra stuffing in a separate dish. It seemed dry when uncooked, so I decided to add some peach nectar to the dish. I added too much, resulting in a soggy
stuffing. This was my fault, not Lake Lure Lady's, but I don't want anyone else to make the same mistake, so be judicious in adding liquid. The stuffing cooking in the tenderloin was perfect. - Tarragon
Serves 6 to 8
For the Stuffing:
2

Apples

1

cup Chopped dried figlets

1

cup Chopped dried apples

1

cup Dried bread crumbs

1/2

cup Chopped celery

1/2

cup Coarsely chopped pecans

4

Scallions, chopped

1/4

cup Maple Syrup

1/4

cup Pear nectar
For The Pork
2

Pork Tenderloins

Salt and Pepper to taste

8

Slices of Bacon

1/4

cup Maple Syrup

1/2 to 1

cup Pear Nectar
Preheat oven to 350 degrees F.
Butterfly pork tenderloins by cutting down the middle of each 2/3rd of the way through lengthwise.. Place each between sheets of wax paper and pound out to a 1/4-inch rectangle. Salt and Pepper to taste. Place as much stuffing as will fit easily on each one. You will have extra to put in a small casserole to cook separately. Roll up each pork tenderloin starting at the long ends and place them seam side down in a roasting pan appropriate to their size. (Not too large). Wrap each tenderloin with 4 slices of bacon.
Drizzle tops of each one with maple syrup and pour 1/2 cup of pear nectar into pan. Place in oven and cook for 1 hour basting occasionally and adding more liquid if pan starts to caramalize too quickly. When tenderloins are nicely caramlized after 1 hour, remove from oven. Let rest covered for 5 minutes. Slice and serve.
Jump to

Comments

(

6

)