Chive Tater Tots with Green Onion Ketchup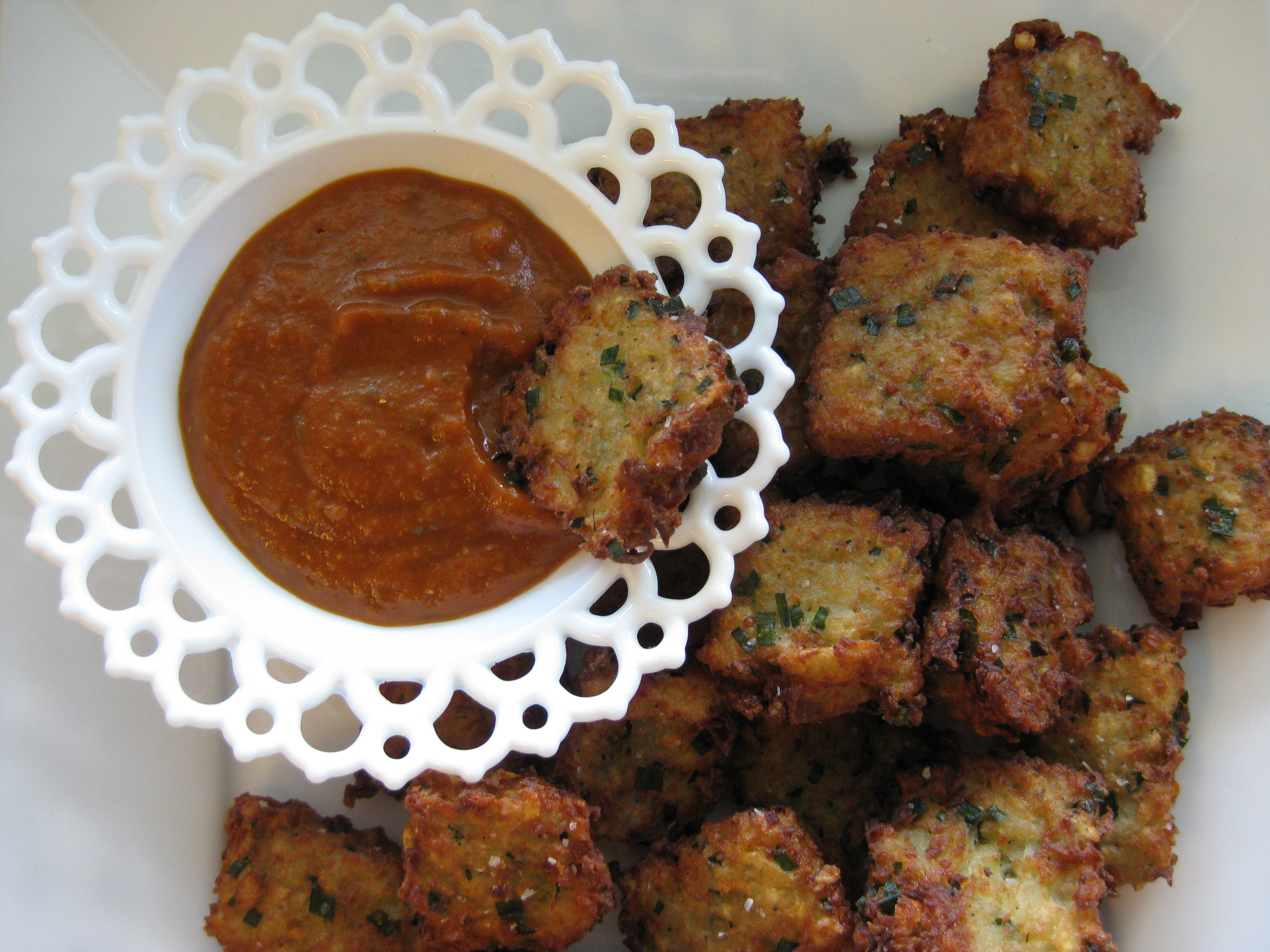 Author Notes: We have chives growing, I mean a LOT of chives. They were all well behaved in their pot a few years ago then I let them bloom and the seeds went everywhere and now we are just this side of being industrial sized chive farmers. Chives in the ground, chives in every flower pot, chives for the neighbors. So - chives and ... well I won't tell you all the brain bunny trails that led me to yell TATER TOTS rather loudly and somewhat out of the blue at the kitchen table. And then green onion ketchup was just another hippity hop down that same trail. Plus, really, who doesn't like tater tots? If you say you don't well, frankly, I do not believe you. I did a lot of compare and contrast for the launching point - Cooks' County tots, Aaron McCardle from Food Network's tots, and a number of ketchup recipes. Pull what look like the best ideas, add onions, cook, devour! - aargersi
Serves a pile of tots
Green Onion Ketchup
1 - 28

ounce can San Marzano tomatoes with juice

1

cup diced onion

2

tablespoons olive oil

1

teaspoon smoked sweet paprika

1/4

teaspoon cinnamon

1/4

teaspoon allspice

1/4

teaspoon white pepper

1

tablespoon tomato paste

1/2

cup red wine vinegar

1

teaspoon kosher salt

1/4

cup light brown sugar

1

cup chopped green onion
Heat the oil in a saucepan to medium. Add the spices and toast them for 2-3 minutes. Add the tomato paste and cook for a couple of minutes more, then add the onions and cook for a couple minutes more again. Add the salt and tomatoes, then sugar and vinegar.
Let this mixture simmer for about 30 minutes, stirring and mashing the tomatoes a bit as you go. After about a half hour I blended with an immersion blender to see thickness and test for salt - if you don't have an immersion blender you should get one but until then, carefully transfer to a blender or processor and blend until smooth, then back to the pot to reduce down to the thickness of ketchup. Taste for salt.
Once you have the ketchup nice and thick and smooth, allow it to cool for awhile. Transfer it back to the blender and blend those green onions in. This goes in the fridge until you start frying tots. It is way more than you need for the tots so yay! You can use it for other stuff!
Chive Tater Tots
4

cups Idaho potato - peeled and in a 1/2 " dice

1/2

cup cold water

1 + 1/2

teaspoon salt

1

egg

2

tablespoons flour

1/2

teaspoon black pepper

1

teaspoon baking soda

1/2

cup minced chives

vegetable oil for frying
Put the potatoes, water and 1 tsp salt in the food processor. Pulse until it is coarsely chopped - you want texture, not a puree. Turn the mixture out onto a clean tea towel, roll it up and wring the moisture out. Wring hard. Put the mixture in a big bowl and put the tea towel in the wash.
Line a 9x9 square pan with foil. Mix the flour, 1/2 tsp salt , pepper and soda into the potatoes. Whisk the egg and stir that in, then fold in the chives. Press the mixture into the pan - I used a spatula to smooth the top and tidy up the edges. Put the pan in the freezer for 45 minutes to an hour.
Fry time! Put a sheet pan in the oven and turn it to 200 (unless you intend to eat as you fry which honestly is a terrific idea) Your oil should be deep enough to float a tot, and between 375 - 400 degrees. I have a fry-daddy thing that makes this super easy. (I am gadget-y - Alton Brown would go apoplectic if he saw all of my stuff). Cover a plate with paper towels for draining.
Get the tots out of the freezer. Cut them into about 1" squares. They might seem kind of soft and juicy, but they get it together in the oil. On a few I had to give them a little manual assist on the edges. Use a spatula to scoop them up 4 - 5 at a time and lower them into the oil. Fry them until they are brown and crunchy. Remove them to the paper towels, then either to the oven or straight into your face after a quick stop at the ketchup bowl.
Oh a note on the ketchup - I took it out of the fridge before I started frying so it would not be ice cold on the nice hot tots. Oh and also I tried some tots seasoned with salt after frying and some not - the seasoned ones were a bit too salty for us but try one and see what your preference is.
Jump to

Comments

(

21

)