Radish Yogurt Raita with Fresh Coconut and Fried Spices
2
Save
If you like it, save it!
Save and organize all of the stuff you love in one place.
Got it!
If you like something…
Click the heart, it's called favoriting. Favorite the stuff you like.
Got it!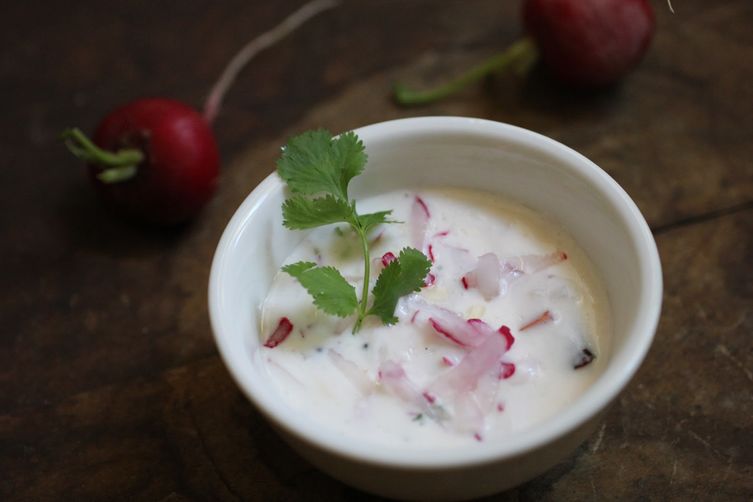 Author Notes: Raita is a yogurt side dish made throughout India, differing in preparation from region to region. This is a South Indian version I learned from my mother made with radish, coconut and fried spices & curry leaves. It's spicy and sweet and you can eat it with roti or flatbread, rice or just by itself. To watch a video version of this recipe go here: http://abcdsofcooking.com/2010/02/my-first-cooking-video-radish-raita/ - Chitra Agrawal
Serves 6
Main Ingredients
16

ounces plain yogurt

4

radish, grated large shred

1/2

plum tomato, chopped

2

tablespoons frozen fresh grated coconut, thawed

2

tablespoons fresh cilantro, chopped

to taste

salt
Tempering Spices
1

teaspoon safflower, canola or sunflower oil

1/2

teaspoon black mustard seeds

pinch

asafoetida or hing

1

dried red chili pepper

3

fresh curry leaves
Combine grated radish, tomato, grated coconut and yogurt into bowl.
In small pan, under medium-high heat, place 1 tsp of oil.
When oil is hot, place asafoetida and mustard seed and shake the pan up and cover.
When mustard seeds start popping turn the heat down to low and place the curry leaf and broken up red chili (be careful to not burn yourself).
Mix everything with a spoon until coated with oil and the curry leaf is crunchy but not burned.
Pour this oil mixture onto the yogurt. (To get all of the oil out, I usually put a spoon or two of the yogurt into the oil pan and pour it back in with the rest of the yogurt.)
Put salt and mix thoroughly.
Garnish with cilantro.