Perfect Coconut Cream Pie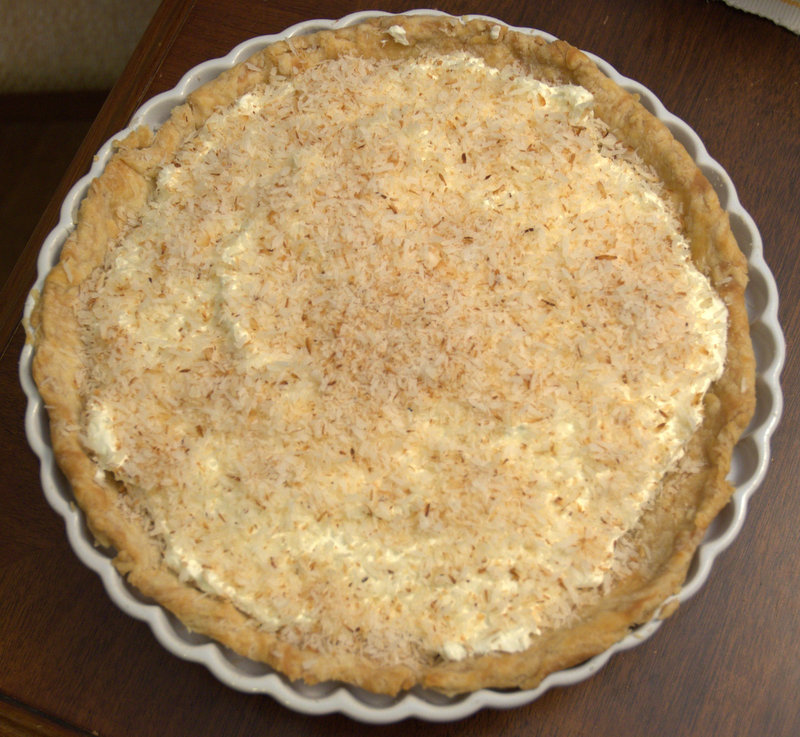 Author Notes: Coconut cream pie is one of my all-time favorite desserts. The small Louisiana town in which I grew up had a real cafeteria, one of those old-fashioned joints where you grab a tray and head down the line, picking up pre-plated dishes as you go. I often got the "sides" plate -smothered greens, fried okra, mac & cheese- and a wedge of coconut cream pie or, when they had it, caramel custard in a cup (another favorite). My mom, sister, grandma and I spent so many happy lunches at that cafeteria, and even though it's not quite as good as it used to be, and caramel custard in a cup days are still too rare, I love the nostalgia of the dining-in experience and go back each time I visit home.

Recently, I thought about how long it'd been since I'd had coconut cream pie, especially a really good, homemade one that's ethereally light and a full-on tribute to the delicate, unique flavor that is coconut.
What can one do in that instance but get busy making one?
Extremely long story short, I used my family pie crust recipe (which cannot be beat), made homemade sweetened, shredded coconut (recipe found on Livestrong site) to avoid the chemicals sometimes found in commercially processed sweetened coconut, and adapted pastry cream and topping recipes from epicurious. The result was perfection, and my hubby and I wiped the pie out in two days flat!
This pie definitely wants a night in the fridge to set and let the flavors deepen, so make it a day in advance if you can. - em-i-lis
Makes 1 pie
For the pie crust and sweetened coconut
2

cups all-purpose flour, sifted

1½

teaspoon salt

½

cups canola oil

1/4

cup milk

2

cups shredded, unsweetened, dried coconut

4

tablespoons powdered sugar, sifted

6

teaspoons canola oil

8

teaspoons water
Preheat the oven to 350. In a medium mixing bowl, whisk together the sifted flour and salt. Pour in the oil and milk, and using a fork, stir to combine. When the dough comes together, roll it out between two sheets of waxed paper, peel off the top sheet, and invert the crust over and into a deep-dish pie plate. Press the crust in and all the way up the sides, and trim the excess. Fill with pie weights or line with foil topped with beans, and bake until golden and set, 25-30 minutes. Let cool completely.
While the pie crust is cooking and cooling, make the sweetened coconut: In a medium mixing bowl, toss together the shredded coconut and the sifted powdered sugar until well combined. In a separate small bowl, stir together the oil and water until well combined and then pour over the sugared coconut. Stir gently to coat the coconut completely. Let sit for about 10 minutes, stirring occasionally and fluffing. The original amount will expand slightly in size. Refrigerate the sweetened coconut until you need it.
For the pastry cream and topping
½

cups + 2 T sugar, divided

2

large eggs + 1 large egg yolk

3

tablespoons all-purpose flour

1

can coconut milk (not low-fat), divided

the sweetened coconut you made, divided

1

teaspoon vanilla extract

1

cup chilled whipping cream
Toast 2/3 c of your sweetened coconut in a heavy small skillet over medium heat until lightly browned, stirring occasionally, about 3 minutes. Cool completely while you make the pastry cream.
Whisk together 1/2 cup of the sugar, the eggs, egg yolk, and flour in medium bowl and set aside (but near the stove). In a medium saucepan set over medium heat, bring 1½ cups of coconut milk and 1½ cups of your sweetened coconut to a simmer. Gradually add this hot milk mixture to your egg mixture, whisking constantly. Return everything to the same saucepan; cook until pastry cream thickens and boils, stirring constantly, about 4 minutes. Remove from heat. Mix in the vanilla extract. Transfer pastry cream to medium bowl. Cover with plastic wrap, pressing it directly onto the surface to prevent formation of skin. Chill until cold, at least 2 hours.
When cold, transfer the filling to your prebaked, now-cool crust. Cover and chill while you make the topping.
Using an electric hand mixer, beat the cream, remaining 1/4 c coconut milk, and remaining 2 T sugar in a medium bowl until peaks form. Spread whipped cream all over top of pastry cream filling. Sprinkle evenly with cooled toasted coconut. Cover and refrigerate at least four hours but preferably overnight.