Orecchiete with Broccoli Rabe and Sausage
41
Save
If you like it, save it!
Save and organize all of the stuff you love in one place.
Got it!
If you like something…
Click the heart, it's called favoriting. Favorite the stuff you like.
Got it!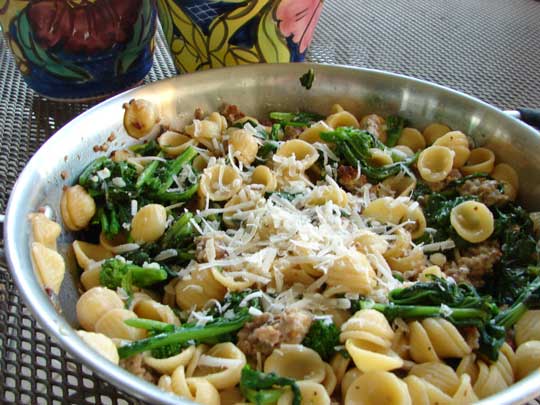 Author Notes: This is a very traditional dish from Italy's Puglia region, which is in the southern part of the country. RIght now it's the hot spot for culinary tours in Italy. The Puglians invented Orecchiete, which means "little ears" and its not uncommon to still see Italian Nonnas (Le Nonne) making them by hand (a time-consuming task!) In Italian this recipe is called "Orecchiette con la cima di rapa e salsiccia." - Jenifer Mangione Vogt
Serves 4
1

packet Orecchiette, cooked as instructed and set aside warm

1

pound Italian Sausage, not in casings

1

Bunch of Broccoli Rabe, trimmed and rinsed

1/2

cup Olive Oil (the better the quality, the better the taste)

1

tablespoon Butter

2

Cloves garlic, finely chopped

1/4

cup Freshly squeezed lemon juice

Salt & Pepper to taste

Parmigiano-Reggiano cheese to taste
1. Halve the garlic and olive oil and place in two separate deep, large frying skillets. One should be stainless steel. In that skillet warm the olive oil on low gradually increasing to medium heat.
2. Add sausage and cook according to your personal preference (I like mine really crispy).
3. When the sausage is about 10 minutes from where you want it to be, begin to heat the other pan with the garlic and olive oil to medium. After five minutes add the Broccoli Rabe and cover for five minutes. Then add the butter, lemon juice, salt and pepper and stir and cover for about another minute. You want to make sure you don't overcook it. It needs to retain that bright green coloring, yet be tender enough to eat. One of the biggest mistakes novice – and sometimes even experienced – home chefs make is to overcook vegetables. Food is art and overcooked green veggies are not appealing! So, if you're unsure, set a timer for five minutes. At medium heat and in a covered pan, 5- 7 minutes should get it right where you want it to be.
4. When the Broccoli Rabe is done, add the sausage to the pan then stir. Then add in the Orecchiette and stir everything together, still on medium heat, for 3-5 minutes.
5. Serve with freshly-grated Parmigiano-Reggiano cheese to taste
Please post below if you have questions or comments.
Jump to

Comments

(

0

)