Goat Cheese Caramel Swirl Ice Cream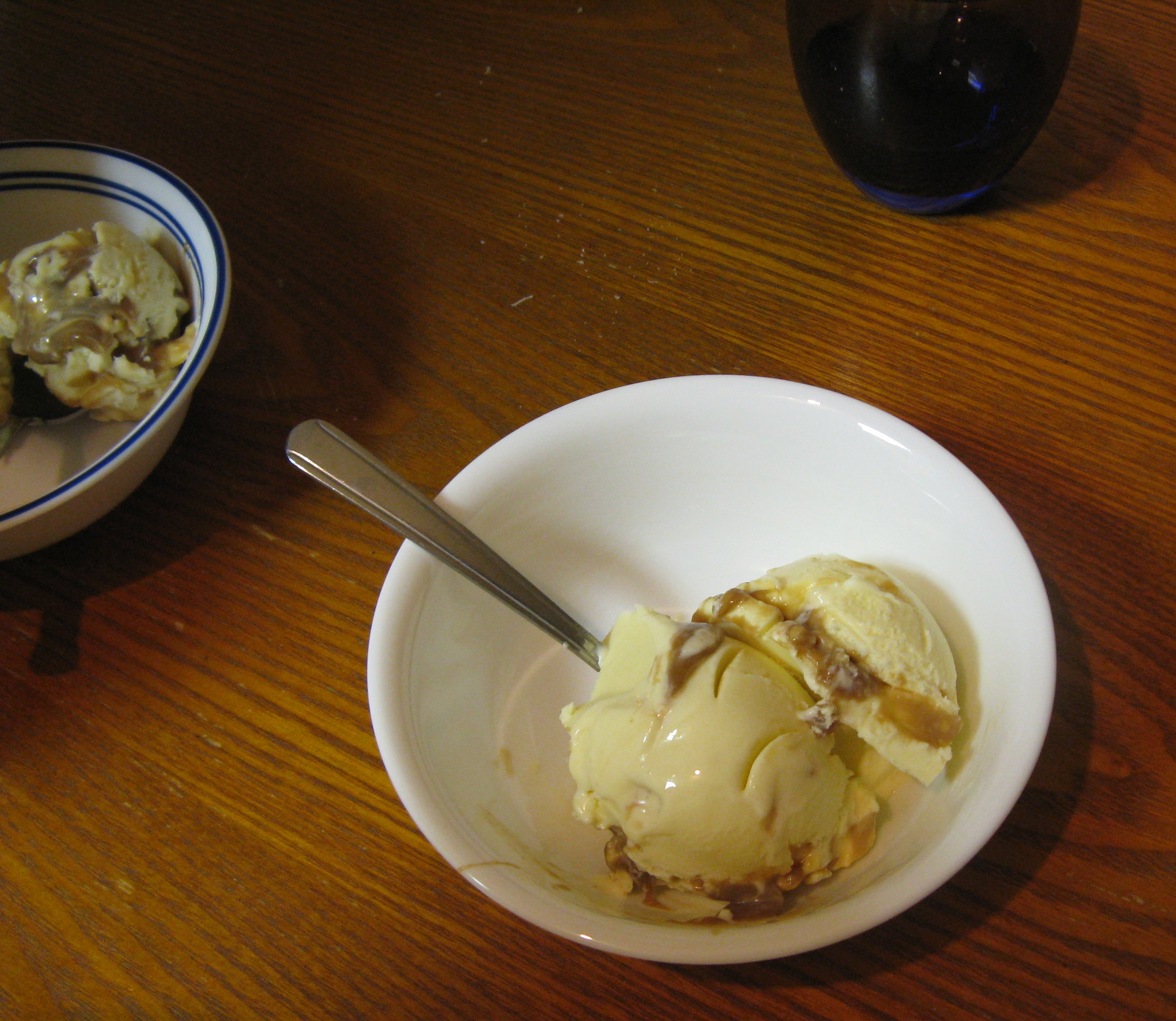 Author Notes: Someone requested me to make this after they saw the flavor mentioned in a food article in an airplane magazine! - gabsimonelouise
Serves 4
Goat Cheese Ice Cream
3/4

cups milk (use whole, low-, or non-fat, they're all good!)

3/4

cups cream

4

egg yolks

2/3

cups sugar

6

ounces goat cheese, crumbled
Crumble goat cheese in medium bowl with strainer set on top.
Heat milk and cream in medium saucepan until simmering. Meanwhile, whisk egg yolks and sugar in medium bowl. Pour milk mixture slowly over yolks, whisking constantly. Return mixture to saucepan. Cook over low heat, stirring constantly with a silicon spatula, until mixture thickens and coats spatula. Pour custard through strainer into the bowl with the goat cheese and stir till smooth. Cover and chill the custard in the fridge, at least 4 hours or overnight.
Freeze custard in ice cream maker according to manufacturer's instructions. Once it is finished, scoop some ice cream into a container then spoon a layer of caramel over it. Continue to layer the ice cream and caramel. Let ice cream harden in freezer for at least 3 hours before digging in! Keeps in the freezer for about a week.
Caramel Swirl (adapted from David Lebovitz's The Perfect Scoop)
3

tablespoons salted butter

1/2

cup sugar

1/2

cup cream

1/2

teaspoon vanilla extract

more salt, to taste
Melt the butter in a medium saucepan. Once melted, stir in the sugar. Let it cook, stirring often, until deep golden brown and just starting to smoke. Remove from heat and whisk in half of the cream. Whisk till smooth, then stir in the rest of the cream, the vanilla, and the salt. If you have lumps, gently rewarm and keep whisking.
Let caramel cool to room temperature before layering with the ice cream. Leftovers can be stored in the fridge for at least a month...but it is delicious warmed up and poured on top of the ice cream!