Apricot-Blueberry Pie with Coriander
4
Save
If you like it, save it!
Save and organize all of the stuff you love in one place.
Got it!
If you like something…
Click the heart, it's called favoriting. Favorite the stuff you like.
Got it!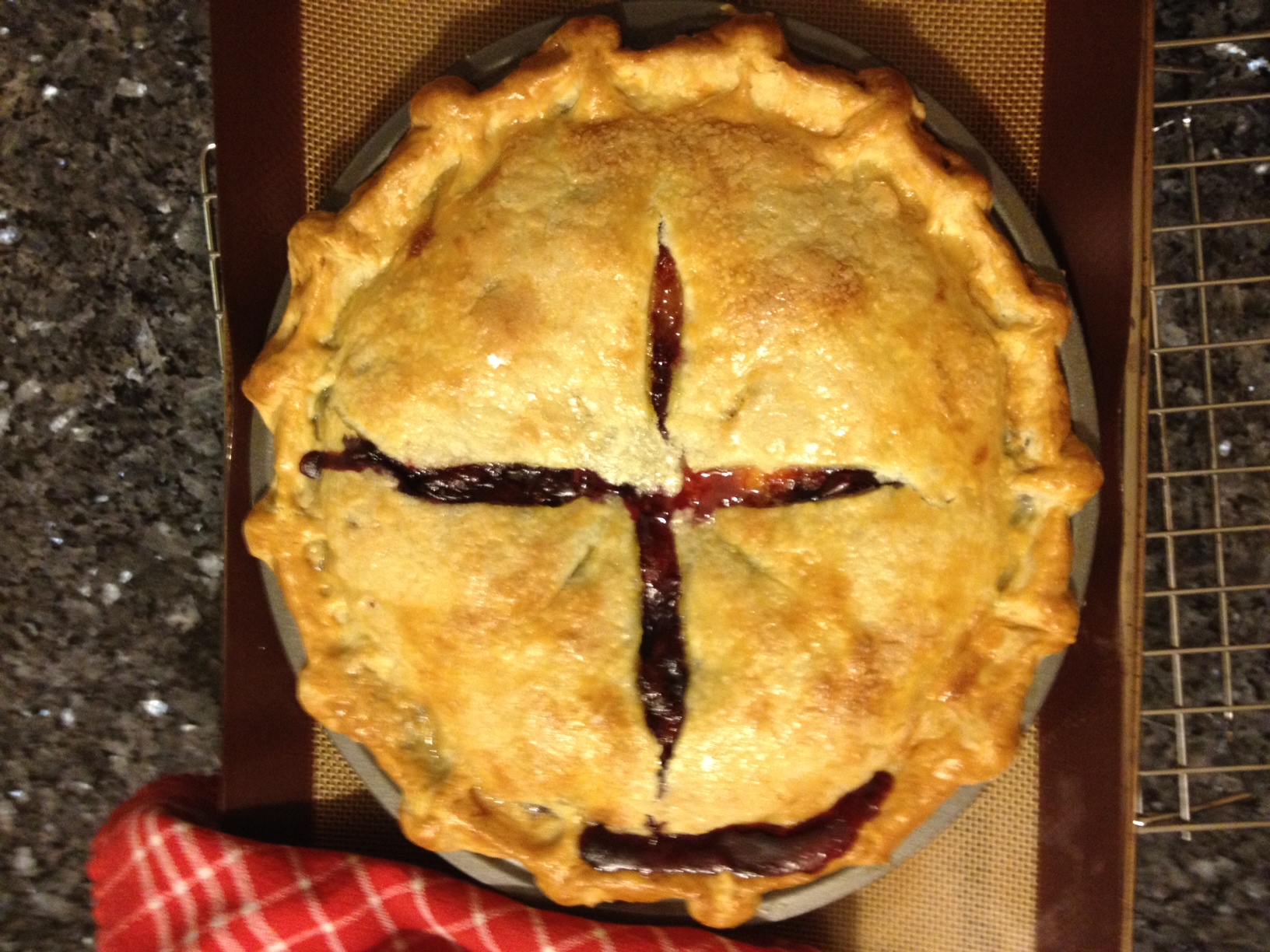 Author Notes: My friend Sara is on the committee that organizes Chicago's annual Bucktown Apple Pie Contest, and last year she coerced me into entering. I'd maybe baked a pie 20-odd years ago, so let's just say I was a complete novice. I ended up making a respectable showing as a semi-finalist. An ego was born! Anyway, I've spent a little time working on my crust - I began with Deb/Smitten Kitchen's recipe, and have veered near and far from it; at this point, I use her proportions and awesome technique, but I split the fat evenly between butter and shortening (sidenote: as soon as I run out of shortening, I'm going to buy some lard). I've also learned that the less effort I make, the better the pies are. This recipe is an excellent example. The apricot-blueberry ratio was based purely on what I had on hand, and yet I couldn't have planned a more velvety texture, gorgeous color, addictive taste. As for the coriander, I'd originally intended to use cardamom, but I'd forgotten that my spice grinder recently died, and all I had was whole pods. The coriander gives a lemony edge that enhances the apricots, but is hard to separate from the rest of the flavors. - jillyp
Makes 1 pie
Apricot-Blueberry Filling
3

cups fresh apricots, sliced (mine were small, so I just halved them)

1

pint blueberries

2/3

cup sugar (this keeps the pie a bit tart)

2-3

tablespoons corn starch

juice and zest from half a lime

1 1/2-2

teaspoons ground coriander

1

pinch salt
Pie Crust
1

pie crust recipe, unbaked (your favorite, enough for a double-crust pie - don't be embarrassed to use ready-made)

1-2

handfuls of flour (for rolling out the dough)

1

egg

1-2

tablespoons sugar
Set your oven for 425 degrees
Gently mix together all the ingredients for the filling, and set aside while you roll out the dough.
Roll out the dough for the bottom crust and place it in a 9- or 10-inch pie plate (not deep dish). There are plenty of great pie crust tips here on F52, if you're a newbie.
Pour filling into bottom crust. Keep it even, but if you're a bit filling-heavy, mound it toward the center.
Roll out the top crust. Place it on top of the pie, then trim and crimp the edges. I usually fold the two crusts under together, so they rest on the rim of the pie plate, then give a good pinch around the pie to seal them together. The trick is to have just enough overlap to be successful, but not so much that you have a thick, doughy edge. Play around, but don't spend too much time fretting - no one ever turns down a slice of pie.
Brush the top crust with the beaten egg, then sprinkle sugar all over it. Use a light hand. Cut some slits in the crust for ventilation.
Place pie on a baking sheet, lined with parchment, foil or a silicone liner (this is going to make the next hour of your life so much easier). Bake for 20 minutes, then turn down the oven to 375 and bake for another 25-35 minutes. If necessary, turn the pie around and/or cover the edges for more even browning.
The pie is ready when the top is light golden, the filling is slightly thickened, bubbling and trying to escape, and you can't sit idly by, enduring the aroma like you're some kind of pie-hating robot. Take the pie out of the oven and let it cool thoroughly.
Jump to

Comments

(

0

)