Rosemary-Roasted Peaches with Salted Caramel Sauce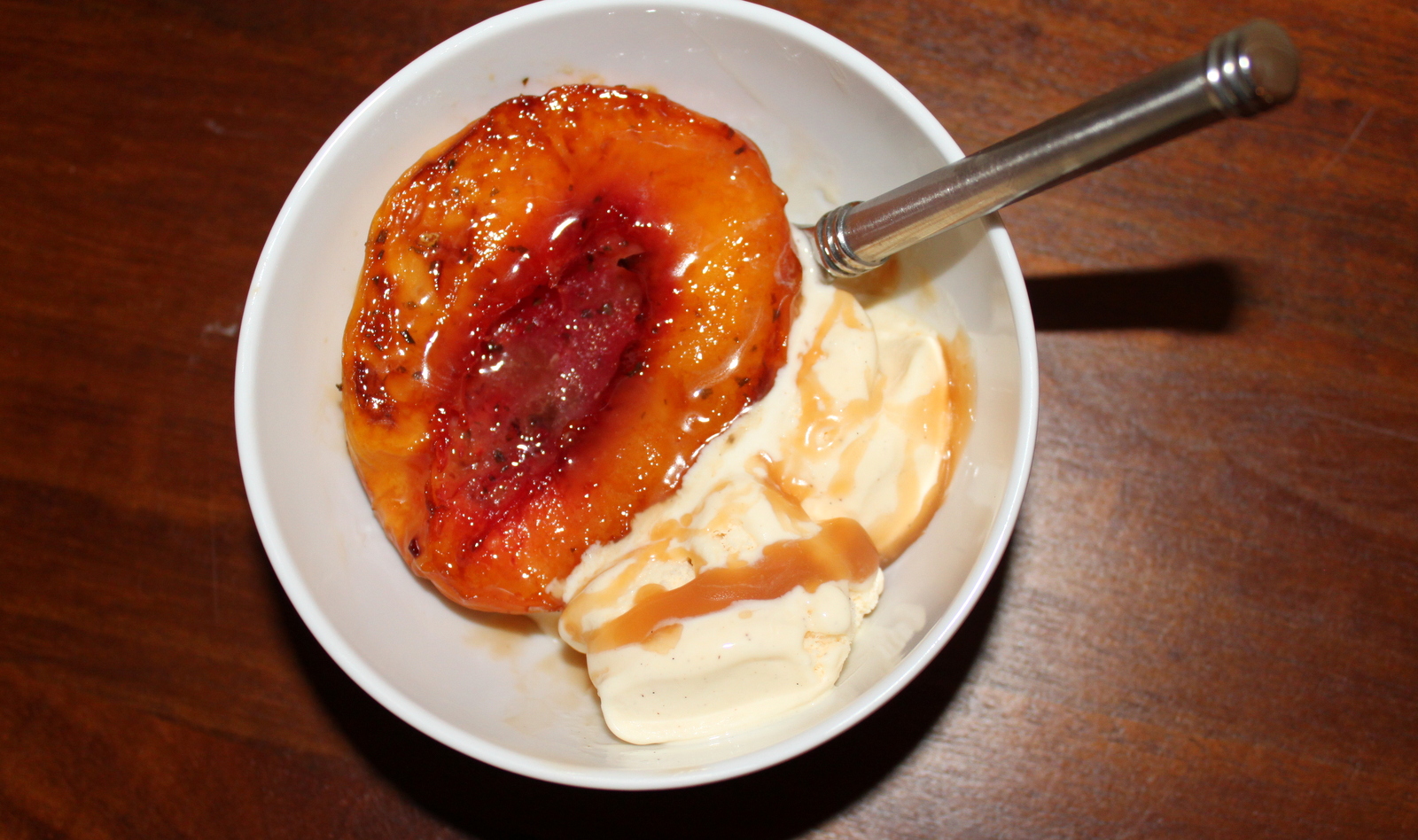 Author Notes: During peak peach season, you can't have too many good recipes in your rotation. Here I've taken one of my favorite methods of cooking peaches and put a new spin on it. You start by making a rosemary sugar in the food processor; I like to use raw sugar here for its complexity. You sprinkle it and a little salt on halved peaches, which not only enhances their natural sweetness but also pulls out moisture to help them caramelize. After a few minutes stove top and a blast in a hot oven, the peaches emerge beautifully browned and glistening with juice, with bright flecks of rosemary dotting the surface. To make a good thing even better, try these peaches with salted caramel sauce, which plays well with the rosemary and natural caramel notes of the peaches. Drizzle it over the roasted peaches, making sure you serve extra on the side. Vanilla ice cream is optional, but highly recommended. - EmilyC
Serves 4
For Rosemary Sugar and Roasted Peaches
3/4 cup raw sugar

3 T chopped rosemary leaves (from one or two leafy sprigs)

4 firm, ripe peaches, pitted and halved (peeling optional)

Kosher salt

2 T unsalted butter
For Salted Caramel Sauce
1 cup sugar

2 T corn syrup or golden syrup (see note below)

1/2 cup heavy cream

3 T unsalted butter

1 tsp vanilla extract

fleur de sel, to taste
To make rosemary sugar: Combine raw sugar and chopped rosemary; make sure the rosemary is completely dry if you've just rinsed it. Process for about 30 seconds, or until well integrated. (You won't need the full amount for one recipe, but it keeps well tightly covered and could be used in countless ways -- e.g., to sweeten iced tea or sprinkle over fresh fruit.)
To pan-roast peaches: Heat oven to 425 degrees F. Liberally sprinkle cut sides of halved peaches with the rosemary sugar. Follow with a pinch of salt. Meanwhile, melt butter in cast iron skillet over medium-high heat. Arrange peaches in the skillet cut side down. Without disturbing them, cook until the cut sides begin to brown, about 3 to 5 minutes. (Note – the peaches will throw off juice while they're browning, which will eventually thicken in the oven.) Transfer to the oven and roast for about 10 minutes. Flip, drizzle with butter, and continue roasting another 5 to 10 minutes, or until tender. The total cooking time will depend on the size and ripeness of your peaches.
To make salted caramel sauce: Combine sugar, corn syrup (or golden syrup), and ¼ cup water in a deep saucepan. Cook over medium-high heat, stirring once or twice, until the sugar has dissolved. Continue cooking without stirring (stirring can cause the sugar to crystallize), swirling the pan occasionally while the sugar cooks. If you notice any sugar on the sides of your sauce pan, brush it down with a wet pastry brush to dissolve the sugar crystals. Cook until the sugar has reached a deep amber color, about 7 to 10 minutes in total; immediately take off the burner. (Keep a close eye – your caramel can go from perfect to burnt in a matter of seconds. If using a candy thermometer, cook the sugar until it reaches 350 degrees F.) Once off the heat, add the heavy cream (stand back because it will sputter upon hitting the caramel) and then whisk in the butter until smooth. If the caramel develops any lumps, place it back over low heat and whisk until smooth. Let stand for 3 minutes, then add the vanilla extract. Tightly covered and refrigerated, the caramel sauce should keep for several weeks in the fridge; gently rewarm before serving.
Note: I prefer golden syrup to corn syrup for its taste when making caramel. If using golden syrup, I highly recommend the use of a candy thermometer. The golden syrup makes the sugar solution an amber color from the get-go, making it much, much harder to judge the stopping point by eye.