Roasty Island Pineapple Ice Cream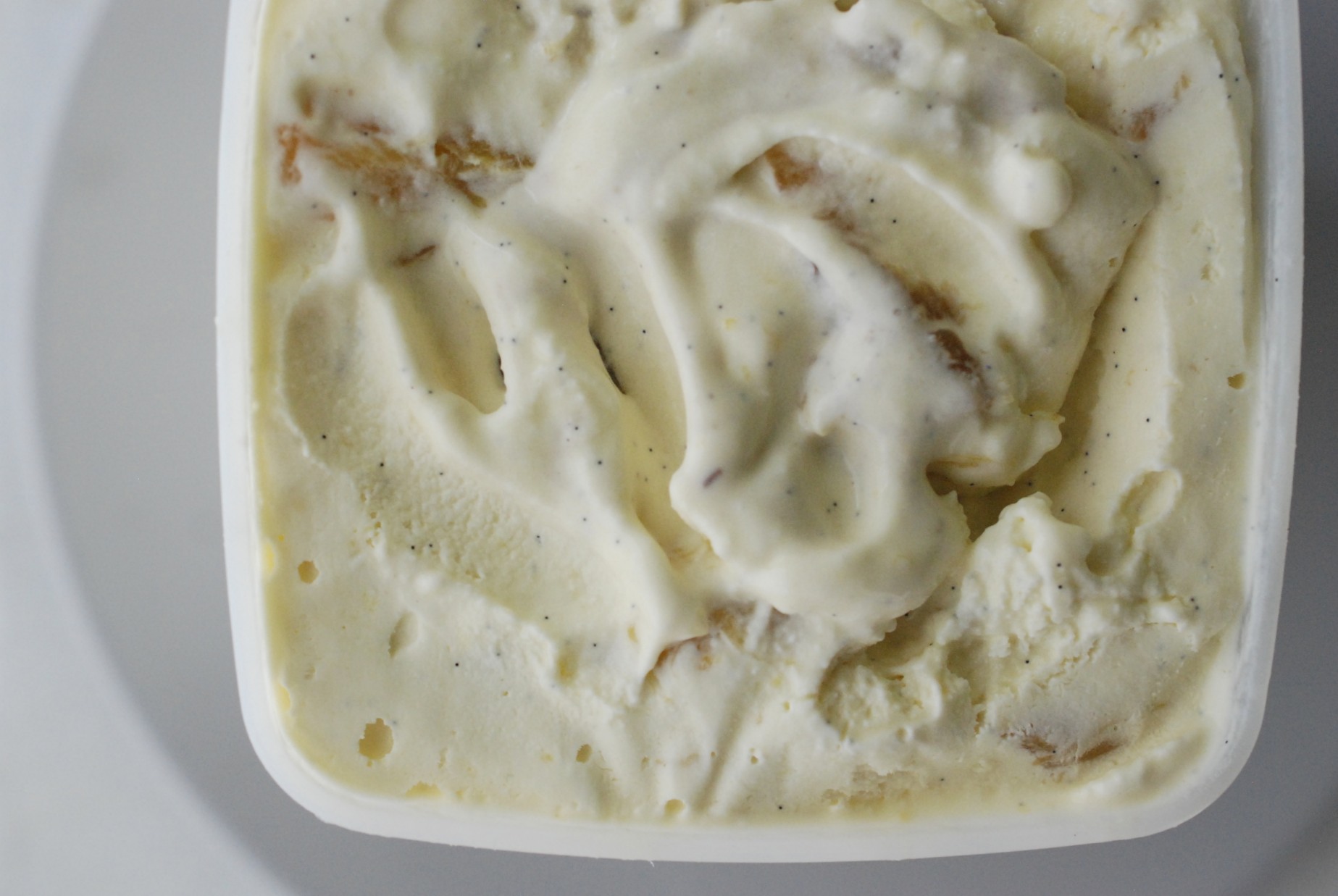 Author Notes: This ice cream puts me in mind of an island cocktail, and vacation, and lounging about. (And actually, you should save the marinade, add more rum and ice, and you will have yourself just that.) The pineapple makes enough for two batches of ice cream; save the rest for future use. - cristinasciarra
Makes about 1.25 quarts
Roasted Pineapple
1 pineapple

1/4 cup dark rum

1/2 a vanilla bean, scraped

1 cup pineapple juice

1/4 teaspoon freshly ground nutmeg

4 tablespoons salted butter

1/4 cup dark brown sugar
Heat the oven to 400F.
Peel and core the pineapple. Cut the remainder into wedges, about 1" thick.
In a small bowl, whisk together the marinade: the scraped vanilla bean, the pineapple juice, and the nutmeg.
In a baking dish, arrange the pineapple wedges in one, even layer. Pour the marinade over the pineapple, and let it sit for 10 minutes. (Flip the pineapple at the 5 minute mark, ensuring even coverage.)
Meanwhile, lay a sheet of parchment paper inside a baking dish. Then, use your fingers to massage together the butter and the brown sugar, until it forms a kind of paste. Rub half of it all over the parchment paper. Reserve the rest.
After 10 minutes, start transferring the pineapple from the marinade, to the butter/sugar-smeared baking dish. (Reserve the marinade for some lovely cocktail.) When all of the pineapple wedges are arranged in the baking dish, scatter the top with the remaining butter/brown sugar.
Move the baking dish to the oven. Cook for 20 minutes, and then flip as many of the pineapple wedges as you can reach. (You can take the dish out of the oven, if it's easier.) Cook the pineapple for another 30-35 minutes, of until they are bubbling, any remaining liquid is syrupy, and the pineapple wedges have started to caramelize.
Let the pineapple wedges cool completely. Then, cut each wedge into bite-sized pieces.
Crème fraîche Ice Cream
1.5 cups whole milk

1.5 cups cream

1/2 cup sugar, divided

1 pinch salt

1 vanilla bean, scraped

5 egg yolks

1/2 cup crème fraîche
In a medium pot, combine the milk, the cream, 1/4 cup of sugar, the salt, and the vanilla bean. Heat the liquid over medium-low heat, stirring occasionally, until it froths. Turn off the heat.
Take a tiny measure of the milk mixture, and whisk it into the egg yolks. Keep adding the milk, little by little, whisking without pause as you go. When you're finished, run the custard base through a sieve, add then add it back to the pot.
Turn the heat again to medium-low. Stir the custard almost constantly as it heats. You want it to coat the back of your spoon; after that, it's done.
Just before pouring the cold custard into an ice cream maker, whisk in the crème fraîche, until blended.
Let the machine go for about 20-25 minutes, or until the ice cream reaches the consistency of soft-serve. (Don't let it go too long, or you will start to make butter.) At the last minute, add the cooled and chopped pineapple pieces.
Spoon the ice cream into a plastic container, leaving as little air between the ice cream and the lid as possible, and move it to the freezer for at least 2-4 hours. Take the ice cream out of the freezer 5-10 minutes before serving.
Jump to

Comments

(

2

)