Third Generation Peach Pie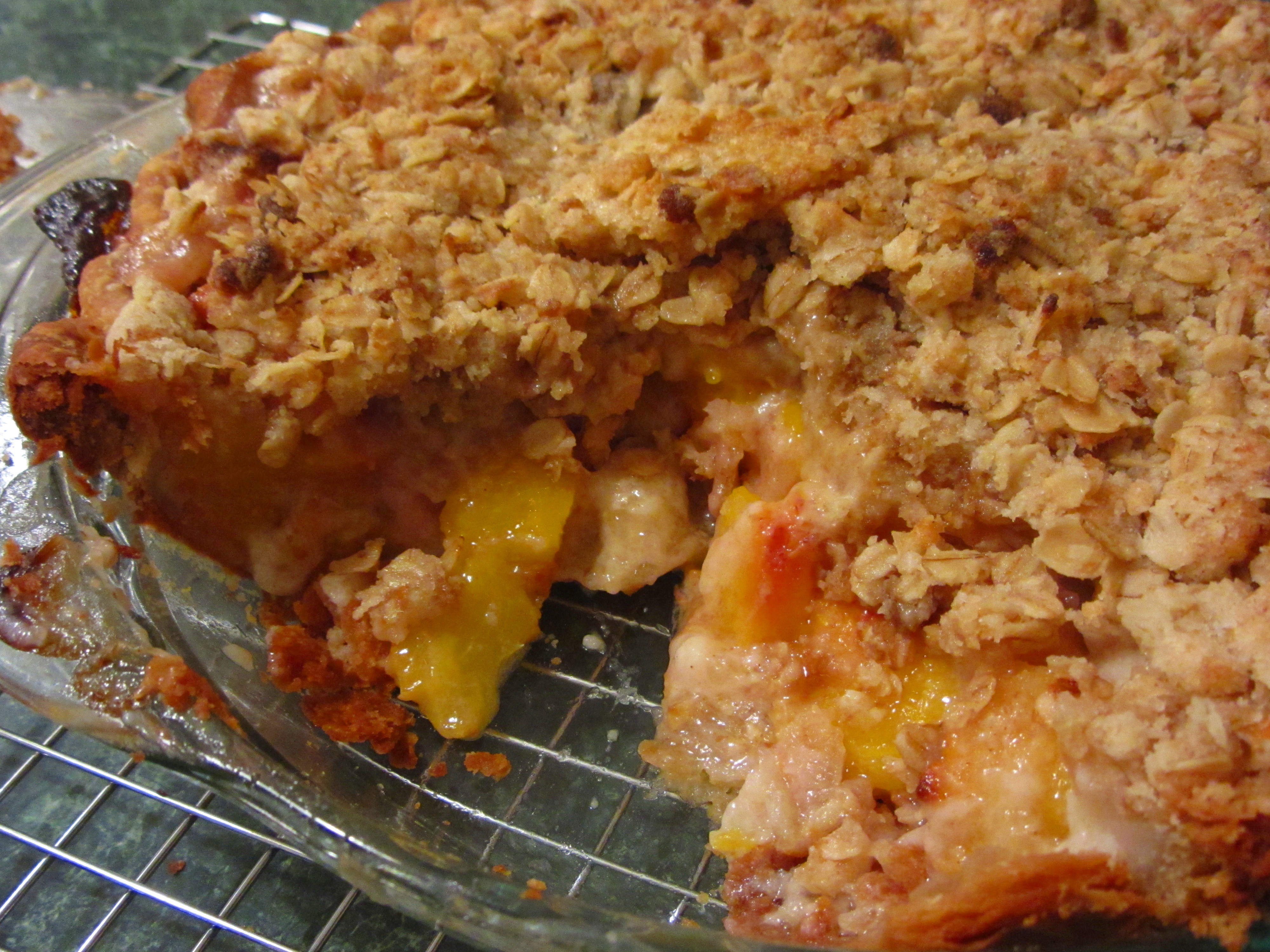 Author Notes: This pie is a family favorite, not just in my home, but throughout the extended branches of the family tree. It began as my grandmother's recipe and was always requested for family gatherings or summer visits from the grandchildren. At some point, my mother made it her own with a few changes. Recently, I tweaked it again, using a few different ingredients and making a crumb topping instead of topping the pie with pastry. To be honest, it's one of those pies that is delicious no matter which generation's version you use.

Variations/Substitutions: I did not have sour cream the last time I made this pie. I substituted the same amount of plain Greek yogurt and added an extra tablespoon of sugar to counter the sourness of the yogurt. Sometimes, instead of nutmeg and cinnamon, I use the same amount of Chinese five-spice powder. - Rhonda35
Serves 8-10 or just one if you squirrel it away from others!
Pie Filling
1

pie pastry

5

cups peeled, sliced fresh peaches (about 8 medium)

1

cup sugar

1/2

teaspoon kosher salt

1/2

cup sour cream, full-fat

2

teaspoons tapioca

1/4

teaspoon freshly grated nutmeg

1/4

teaspoon cinnamon
Crumb Topping
1/2

cup unsalted butter, at room temperature

1/2

cup brown sugar

3/4

cups all-purpose flour

1

cup old-fashioned rolled oats

1/2

cup walnuts or pecans, chopped (optional)

2

tablespoons fresh lemon juice

1/2

teaspoon cinnamon
Preheat oven to 400 degrees.
Line a pie plate with the pastry. Crimp edges in a decorative way. Put in refrigerator till needed.
Place peaches in pastry-lined pan.
Combine all other filling ingredients and mix well. Spread evenly over peaches.
Place in oven, with a baking sheet on the oven rack below it (to catch dripping juices.) Bake 30 minutes.
Combine all crumb topping ingredients. This mixture will be slightly dry and shaggy.
When pie is done, remove it from the oven and spread with crumb topping.
Return pie to oven and bake 20-25 minutes more or till topping is golden brown and the juices are bubbling up out of the pie.
Allow to set prior to slicing, approximately an hour at the very least.
Make a pot of coffee, slice up the pie and enjoy!
Jump to

Comments

(

2

)