Prickly Pear Margarita Sorbet
3
Save
If you like it, save it!
Save and organize all of the stuff you love in one place.
Got it!
If you like something…
Click the heart, it's called favoriting. Favorite the stuff you like.
Got it!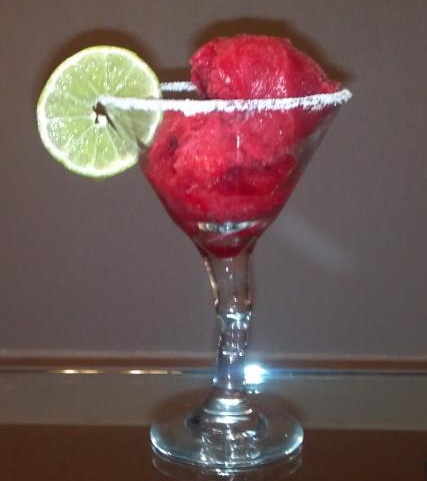 Author Notes: I love the vibrant, fuchsia color of prickly pear. With hints of bubble gum and watermelon, it pairs well with lime and tequila for a flirty sorbet that's perfectly suited to bachelorette parties. Try blending it with more tequila and serving in a salt-rimmed glass for a frozen margarita. This recipe is an original concoction inspired by several sorbets included in Jeni's Splendid Ice Creams at Home, particularly her Watermelon Lemonade Sorbet. Wear gloves when peeling the prickly pears, as the peels sometimes still contain spines. - Chris Van Houten
Makes about 1 quart
10

fresh medium Prickly Pears (Tunas)

1/2

cup fresh squeezed lime juice

1/2

cup sugar

1/4

cup light corn syrup

2

ounces tequila (optional)

salt, for rimming
Carefully peel prickly pears and discard peels. Quarter the fleshy inside and gently puree in a blender or food processor. Strain to remove seeds and measure out 2 1/2 c of puree. Set aside in medium mixing bowl. Prepare an ice bath in a large bowl.
Heat lime juice, sugar, and corn syrup, stirring to dissolve sugar. Bring just to boil and remove from heat.
Stir hot lime juice mixture into the prickly pear puree. Stir in tequila if using. Pour the puree mixture into a Ziploc bag and submerge in prepared ice bath until cool, about 30 minutes.
Pour cool sorbet base into ice cream maker canister and follow manufacturer's instructions for sorbets (usually spin 10-15 minutes). Freeze in freezer at least 3 hours before serving. To serve, dip rims of margarita glasses into rimming salt and scoop sorbet into the glasses.