6
Save
If you like it, save it!
Save and organize all of the stuff you love in one place.
Got it!
If you like something…
Click the heart, it's called favoriting. Favorite the stuff you like.
Got it!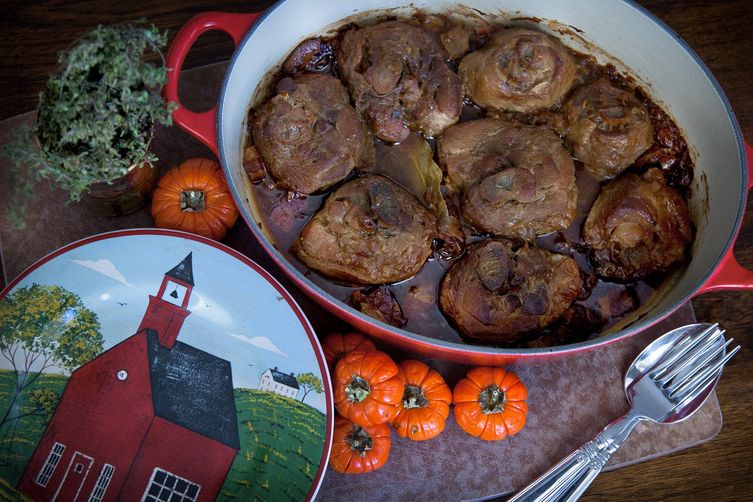 Author Notes: For all the dark meat, dark beer and dark honey lovers out there, this one is for you! After I made Merrill's Short Ribs with Beer and Buckwheat Honey, I kept on fantasizing about all possible ways to make a dish with beer and honey. Then, the turkey challenge came up. Then, I spotted the yummiest looking piece of smoked bacon at a local butcher shop. Adding to that my current fascination with cutting turkey leg crosswise, and from there the dish sort of came together on its own… - QueenSashy
Serves 4
2

pounds turkey drumsticks, cut crosswise into 1 - 11/2 inch thick slices

1

yellow onion (about 6oz), finely chopped

4

ounces bacon, (about two tick slabs, cut into ¾ inch strips)

3

cloves of garlic, minced

2

tablespoons vegetable oil

1

cup dark ale (I used Samuel Smith Nut Brown Ale)

1

tablespoon dark full-bodied honey

1

tablespoon ketchup (do not substitute with tomato paste)

1

bay leaf

2

tablespoons vegetable oil

Salt and freshly ground black pepper
Preheat oven to 325F.
In a large cast iron casserole or Dutch oven heat the oil over medium-high heat. Add the bacon pieces and sauté several minutes until lightly browned. Transfer the bacon to a side dish, leaving two tablespoons of drippings in the casserole.
Heat the drippings in the casserole over medium-high heat. Season the turkey pieces with salt and pepper and place them into the casserole. Brown them nicely, about two minutes per side.
Remove the turkey from the pan. Add the onion and cook over medium heat, until the onion is very soft and slightly caramelized, for about five minutes. Add the garlic, and cook for another minute. Stir in the ketchup, honey, beer and bay leaf. Place the turkey pieces back into the casserole, coat with the sauce, and bring to simmer.
Cover the casserole with a lid and put it in the oven. Cook until the meat is very tender and begins to fall of the bones, for about 2 to 2 1/2 hours.
Adjust the seasoning if needed. Serve warm with the sauce spooned on top.
Jump to

Comments

(

2

)