Guinness Lacquered Pork Belly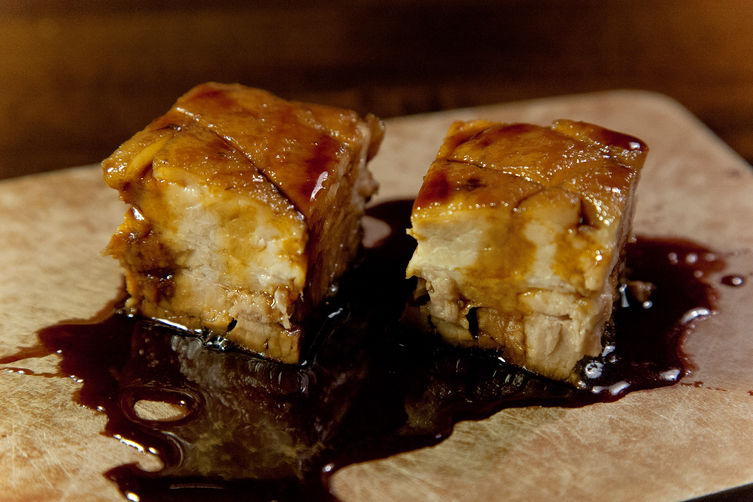 Author Notes: Pork belly is the cheapest yet the most rewarding cut one can think of. It's fun to eat and fun to make -- it loves sweet, it loves spices, it loves booze, the possibilities are endless. This is one of my favorite dishes for parties, it can be prepared ahead of time, and finished just before serving. It does take some special efforts though -- you will need to guard the fridge so that hubby does not snatch the Guinness before it makes its way into the dish, and you will have to guard the glaze so that the guests do not dip into it before it makes its way onto the pork, but the hard work will be rewarded with the beautiful, succulent, most tender pork imaginable. I like to serve it with shaved Brussels sprouts salad or fennel slaw. - QueenSashy
Serves 6
2

pounds pork belly, without skin

4

cups Guinness dark stout

1 1/2

cup cups wildflower honey

1/2

cup agave syrup

2

bay leaves

1

tablespoon orange zest, finely shredded

2

tablespoons oil

Salt
Score the fatty side of the belly in a crisscross pattern, without cutting into the meat. Rub generously with salt, cover and refrigerate at least 4 hours or overnight.
Preheat oven to 200F. In a bowl mix the Guinness, honey, agave syrup, bay leaves and orange zest.
In a large Dutch oven or casserole heat the oil until sizzling. Add the pork belly and cook over moderate heat until it is nicely browned on both sides. Remove the casserole from the heat and poor in the Guinness mixture. Make sure that the fatty side of the meat is facing up. Cover with a tight-fitting lid, transfer to the oven and roast for 7 hours. Remove the casserole from the oven. Gently lift the pork belly, transfer to a platter and let it cool completely, at least 2 hours.
Skim all the fat from the roasting liquid. (I do it by pouring the liquid into a bowl and putting it in the freezer for about an hour.). Pour the liquid back into the casserole and bring to boil over high heat. Simmer on medium heat for about 20min, until it is reduced to thick syrup.
Preheat the broiler. Cut the cold pork belly into 1 1/2-inch cubes. Glaze the cubes with the Guinness syrup on all sides, arrange on a baking sheet and place under the broiler for about 8 to 10 minutes to crisp.
Using slotted spoon, transfer the pork belly to plates. Spoon the additional Guinness syrup on top and serve.
Jump to

Comments

(

2

)