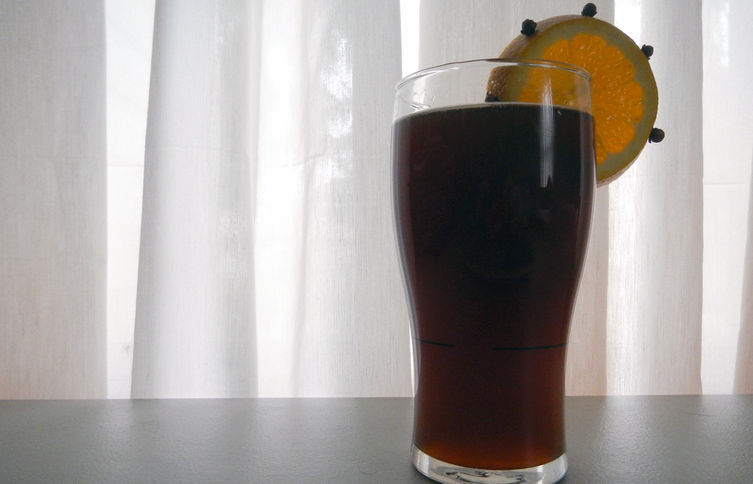 Author Notes: Shandies are typically summer drinks. The general formula is 1 part beer to 1 part soda - lemon-lime, gingerale, etc... My version is made for winter. It combines the chocolate and coffee flavors of porter with the holiday flavors of a pomander (the classic clove-studded orange air freshener). The resulting drink tastes like the holidays with the warm clove spice and orange soda adding a bit of cheer and brightness to the bold but heavy porter. Cheers! - hardlikearmour
Makes 1 1/4 cups syrup, enough for 10 to 12 cocktails
Pomander Syrup
2

medium to large oranges

1/2

cup sugar

water

1

tablespoon whole cloves

1

teaspoon vanilla extract
Thoroughly wash oranges. Remove zest, avoiding the white pith, and set aside. Cut oranges in half and juice them. Strain the juice, reserving and refrigerating 6 tablespoons (3 oz). Transfer remaining juice to a liquid measure, and add water to total 1 cup of liquid.
Combine water, sugar, orange zest, and cloves in a small saucepan. Bring to a boil over medium heat, swirling occasionally to dissolve sugar. Remove from heat, cover, and allow to come to room temperature.
Pour syrup through a fine mesh strainer into a jar or other suitable storage vessel. Stir in 1 teaspoon vanilla extract. Cover and refrigerate until ready to use.
Pomander Porter Shandy (serves 2)
3

to 4 tablespoons (1 1/2 to 2 oz) Pomander Syrup

6

tablespoons (3 oz) freshly pressed and strained orange juice

1

12-oz bottle of Porter (one with nice chocolate notes)

10

to 12 oz seltzer

2

oranges wheels, each studded with several cloves (optional garnish)
Divide ingredients equally between 2 16-oz glasses, starting with the smaller amounts of syrup and seltzer. Taste and add more syrup or seltzer if desired. Garnish with orange wheel if desired.
If making a larger batch, combine the ingredients in a pitcher instead.
Jump to

Comments

(

0

)