Roasted Pear Sesame Ginger Scones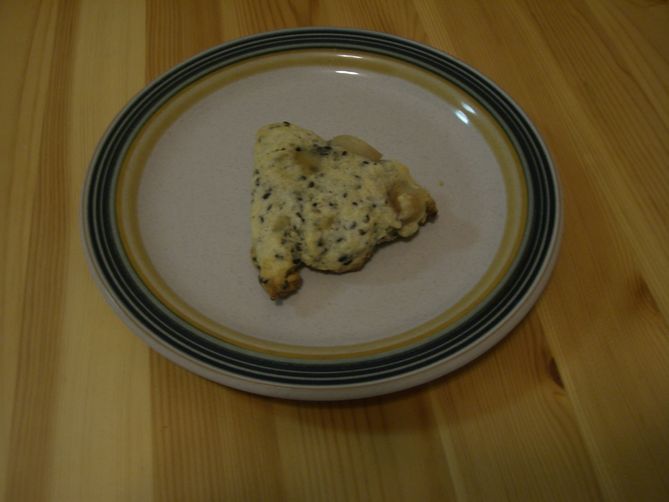 Author Notes: I promised a friend of mine, whose birthday is in the fall, a delayed birthday celebration with baked goods of her choice sometime in the winter "when things get gloomy" and we needed something to cheer us up. Having made it to said gloomy season, she recently requested birthday scones, but declined to specify any further details as to flavors. This recipe, based loosely on Smitten Kitchen's roasted pear and chocolate chunk scones, was what I came up with, and all the "birthday" celebrants seemed to like them. I'd certainly make them again (and next time, maybe I'll remember to take a picture-the black sesame speckles are rather cute *edit: done! not the most attractive picture, but hey). The ginger flavor is present but not very strong-if you want it to come through better you might try adding some ground ginger alongside the infused cream.

*note: the dough freezes well, but if you bake them from straight from frozen, set the oven to 350 or so, so that the bottoms don't burn before the middles are baked. - summersavory
Makes 6 or 12, depending on how you cut them
1

pound bosc pears (bosc, specifically, because they're firm even when ripe)

1 1/2

cup all-purpose flour

1/4

cup sugar

1 1/2

teaspoon baking powder

1/2

teaspoon salt

2

tablespoons black sesame seeds

6

tablespoons cold unsalted butter

1/2

cup heavy cream (you'll have extra)

0.1

pounds fresh ginger root

1

egg

coarse sugar for sprinkling (optional)
Peel, core, and chop up the pears into good-sized chunks. Roast them on a parchment-lined pan of some sort for 25-30 minutes at 375F, until they start to brown a bit and feel dry. Put them on a dish and cool them in the fridge.
Peel and thinly slice or chop the ginger and put it in a small pot with the cream. Gently heat it to a very low simmer and keep it there, stirring a bit, for 5 minutes or so. Then, put the whole pot in the fridge to cool the cream. If you're short on time you could probably put the pot in an ice bath or something; otherwise, just do the pears and cream in advance, and all that follows right when you want to bake them. When the cream is cool you can strain out the ginger; pressing it a bit will help get all the cream and more of the gingery flavor.
Toast the sesame seeds in a dry pan until they smell a bit like popcorn. Then, break them up in a mortar and pestle (if you have one) or using a wooden spoon and a small bowl (if, like me, you don't).
Mix the flour, sugar, baking powder, salt, and sesame seeds, and rub in the butter (you could use a pastry blender if you felt like it, but again, I don't have one). It doesn't need to be too finely combined-small chunks are ok. Then, add 1/4 c of the cream, the egg, and the pear chunks, and stir. It may seem crumbly and dry, but you don't need more liquid-just keep stirring until it is all dampened (the slight smushing of the pears adds moisture more gradually, you just have to wait for it). Pat out the dough on a floured surface and cut it (you can do one round and 6 big scones, or two small rounds for 12 smaller scones (that's what I did) or anything else you like). If you like, you can sprinkle the tops with sugar. Bake at 375 on a parchment-lined baking sheet until done. For 12 smaller scones, it took about 20 minutes, and larger would, of course, take longer-perhaps 30 minutes. Also, to make sure they all get evenly cooked, try not to crowd them on the baking sheet. They like a bit of space to crisp up the sides.
Jump to

Comments

(

4

)