74
Save
If you like it, save it!
Save and organize all of the stuff you love in one place.
Got it!
If you like something…
Click the heart, it's called favoriting. Favorite the stuff you like.
Got it!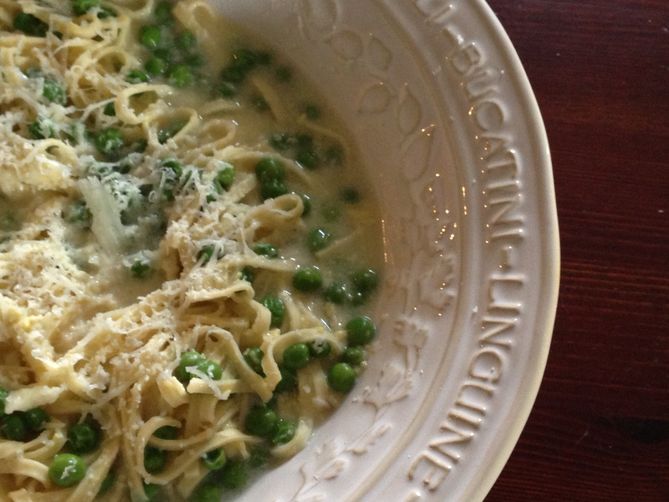 Author Notes: I first had this when I lived in Italy, we were invited to a friends house for lunch and this soup was made as a first course. Lunch was a big deal in Italy with multiple courses. I watched my friends Grandmother make this soup, it literally took only minutes, it's simple and comforting and delicious. Only a few ingredients are used to produce this wonderful soup. Chicken stock or broth, homemade (or dried) pasta, peas, egg and grated romano cheese. Note: You can use parmigiano cheese instead of romano or mix them. - sdebrango
Food52 Review: I made sdebrango's delicious soup twice -- once with fresh linguine and homemade stock, and once with dried spaghetti and low-sodium chicken broth. Both times the soup was amazingly good, though the fresh pasta and stock version was slightly tastier. This soup's depth of flavor belies its short ingredient list and very quick cooking time. The need for a fork and spoon to eat the long noodles may drive me to use shorter noodles next time. This recipe is now in my "go-to" list of easy-peasy comfort food meals.  - hardlikearmour
Serves 2 to 4, depending on portion size
32

ounces chicken broth or stock (4 cups)

1

cup fresh or frozen peas

1/2

pound fresh pasta (I used linguine but capellini or spaghetti works just fine. If you don't have fresh, dried works great also.)

1

large egg, beaten

1/2

cup grated pecorino romano cheese

Salt and pepper to taste

Pinch of lemon zest (optional)
Bring your broth or stock to a boil in a large saucepan, add the peas, and cook for 3 minutes. Add the pasta. (If using fresh, it only takes about 3 minutes to cook; dried takes longer, about 8 minutes approximately.) NOTE: If using dried pasta, it takes much longer to cook, and you don't want to overcook the peas. Dried pasta, depending on the type, can take 8-10 minutes, so add the peas in the last 5 minutes of cooking.
Beat the egg and add the grated cheese to the egg; combine. Remove pot from the heat and pour the egg in slowly, stirring as you add. Add salt and pepper if you like; I like to add a pinch of lemon zest also. Serve with more cheese grated on top.