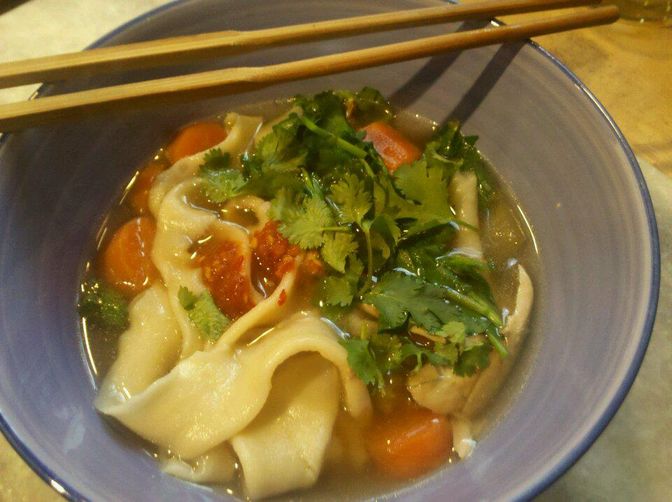 Author Notes: The story goes, if you eat really long noodles, you'll live a really long time. Great Grandma Tsao must've eaten a ton of these. She passed away recently, at 103 years old. Her birthday always fell around Chinese New Year, and every year, we'd gather together for an elaborate banquet in Flushing, Queens, and it would always include a noodle dish.

I've been eating a ton of noodle soup lately. Will I live to be 103? I don't know. But I do know noodle soup is perfect comfort food. Also, it's just plain fun to slurp away at a big bowl of long noodles.

I've been making this broth, adapted from Barefoot Contessa At Home, for several years. Noodles adapted from Spicy Cumin Lamb Noodles from Biang! Restaurant, found here: http://abclocal.go.com/wabc/story?section=news/neighborhood_eats&id=8959014 Have a go! They are really fun to make. - mrslarkin
Serves 4 or more
for the chicken broth
3

pounds chicken legs and thighs, bone-in, skin-on

1

large yellow onion, unpeeled and quartered

2

carrots, peeled, cut in half

1

large celery rib, with leaves, cut in half

2

parsnips, unpeeled, cut in half

3

garlic cloves, unpeeled, cut in half

1

bay leaf

5

sprigs fresh flat-leaf parsley

5

sprigs fresh thyme

3

teaspoons kosher salt

3/4

teaspoons whole black peppercorns

2" knob of fresh ginger, sliced into 3 coins

12

cups water

scallion, cut into strips, for garnish

cilantro leaves for garnish

Rooster chili garlic sauce, if desired

soy sauce, if desired
Place all ingredients, except garnishes, chili sauce and soy sauce, in a large stock pot. Bring to a boil. Reduce heat to simmer, and cook for 2 to 3 hours with the lid askew.
Let cool slightly. Remove large pieces of chicken, carrot and celery, and reserve for the noodle soup. Shred chicken, and cut veggies into small pieces.
Strain broth through a colander or fine-mesh strainer. Repeat two, or more, times, if you want very clear broth. I use the gold cone Krups coffee filter, which I never use for coffee. It works great as a strainer.
Pour strained broth into a clean pot. Keep hot over low heat.
For the Long Life Noodles (or substitute any store-bought long noodle of your choice, e.g. ramen, cellophane, egg)
400

grams unbleached all-purpose flour (about 3 1/3 cups)

3/4

teaspoons kosher salt

215

grams cold water (just under a cupful)

vegetable oil, for brushing on dough
In a large bowl, whisk together the flour and salt. Make a well in the middle and pour in the water. With a fork, gently stir in the flour until a dough forms. You may need a smidge more water. Knead until smooth.
Cover dough and let rest for about 10 minutes or so.
Shape dough into a long strip 24" x 4" x 3/8". Cut into 2" x 4" pieces. Brush pieces lightly with vegetable oil. Using a pastry scraper or bench knife or spatula, transfer the pieces to a tray, flipped over so you can brush the other sides. Cover with plastic wrap and refrigerate until you are ready to cook the noodles.
Bring a large pot of lightly salted water to a boil.
Place one piece of dough in front of you and press it out a bit. Pick it up and slightly stretch it. Grab the left and right side of the dough, pick up the dough and start slapping it onto your counter. It will lengthen and get really long. Once it's super long, like arms length long, find the middle and rip the noodle in half right down the middle to make a really REALLY long noodle. Set aside. Continue with the rest of the dough.
Add the noodles to the boiling water and cook for a few minutes.
Get your bowls ready. It's best to prepare one bowl at a time so that each person gets a piping-hot bowl of soup. Ladle some broth into the bowl. Using a strainer and/or long tongs, scoop up some noodles and place in soup bowl. Add chicken, veggies, a dollop of chili sauce, and garnishes.
Happy New Year! G?ng X? F? Cái!
Jump to

Comments

(

8

)