Lemon Tea Brined Slow Roasted Chicken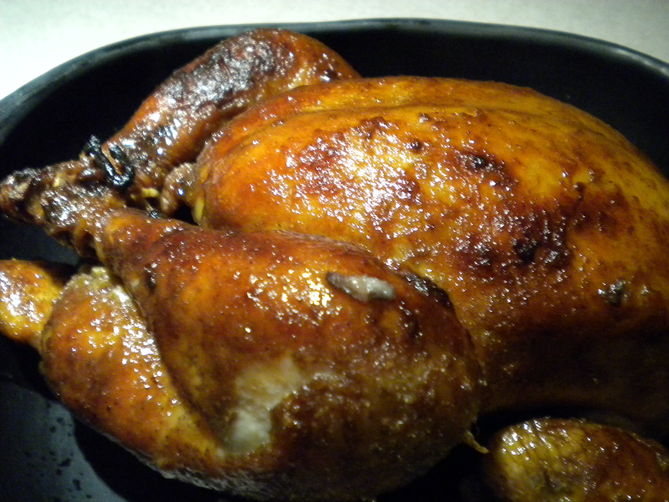 Author Notes: I love chicken that is slow roasted on low heat...it's my "go to" recipe. I picked up a small 3 pounder the other day and decided to brine it with tea and lemon before roasting. It was sweet and succulent and the two of us almost finished it off in one sitting! - inpatskitchen
Serves 2 to 4 depending on your appetite
Roasting
The brined chicken

1

black tea bag

4

large cloves garlic, halved

Juice of 1 medium lemon

1

tablespoon extra virgin olive oil

1

tablespoon sea salt

1

teaspoon white pepper

1/8

teaspoon cayenne pepper

1

teaspoon granulated garlic
Remove the chicken from the tea brine and pat dry inside and out with paper toweling. Place the garlic cloves and the tea bag (sans any tag) into the chicken's cavity. Tie the chicken's legs, tuck the wings under the chicken and place, breast side up into 9 x 13 inch roasting/ baking pan.
Rub the lemon juice all over the skin of the chicken and then rub in the olive oil. Combine the salt, pepper, cayenne and garlic and pat the mixture all over the bird.
Roast in a pre heated 250F oven for about 3 hours. After the first hour of roasting, start basting occasionally by tipping the pan to release the juices from the cavity. Do this about every half hour or so.
After the slow roasting, raise the oven temperature to 375F and continue to roast for about 15 minutes. Let rest for about 10 minutes before serving.
NOTE: If you're roasting a chicken larger than 3 pounds you'll need to increase the slow roasting time. I usually roast a 5 to 6 pounder for about 4.5 to 5 hours at 250F.
Brining
4

cups water

4

black tea bags (I used an English breakfast tea)

Three 2 inch slices of lemon peel about an inch wide

1/2

cup granulated sugar

1

tablespoon sea salt

Juice of one medium lemon

One three pound whole chicken
Bring the water up to a boil and add the tea bagsand lemon peel. Turn off the heat, cover the pot and let the tea steep for 10 minutes.
Stir in the sugar and salt and then let the mixture cool to room temperature. After it reaches room temperature, stir in the lemon juice.
Place the chicken in a gallon size zippered freezer bag and pour in the tea. Place the bag on a sided dish and place in the fridge for about 24 hours. Occasionally turn the chicken to distribute the tea all over.