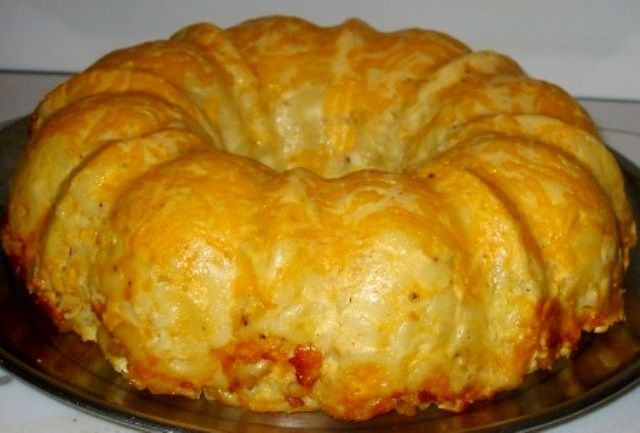 Author Notes: This is a delicious twist on Mac & Cheese with a cheesy glaze for its crowning touch, one that will appeal to the taste buds of millions, really, who doesn't like cheesy goodness?

Sometimes we need to forget about calories and splurge; this is a recipe that can fall into that category, although I have lightened it up considerably in comparison to most others you will find.

Inspired by my Bundt pan obsession, and I am seriously, serious about that! Whoever has been in my circle of conversation, lately, knows I have been playing in the kitchen, putting everything in a Bundt. So when the last significant food event was calling on me, Mac & Cheese became the newest idea.

After raiding my pantry, finding dry macaroni I had been hoping to use up, taking inventory of usual kitchen seasonings, dairy, bread for fresh crumbs, and then finally dashing to the deli for needed cheese and buttermilk, the recipe was relatively inexpensive to make and easy to put together as well.

Slice like you would a cake and serve at room temperature or cold; makes a great portable side for potlucks, picnics or special occasions. A visual feast for your soul, because after all, we eat with our eyes first!
- lapadia
Serves 10-12 delicious slices, depending on the size cut
1 cup sharp or extra sharp cheddar cheese, shredded

1/2 stick salted butter - melted (or 4 tablespoons)

2/3 cup fresh bread crumbs - divided in half (panko works nicely if you have it on hand)

1/4 teaspoon red pepper, or to taste

1/2 tablespoon dry mustard

1 teaspoon smoked paprika - preferred but optional

2 cups buttermilk

1/2 cup half & half

2 eggs, lightly beaten

1 cup of a Mexican cheese mixture

2 cups American cheese

4 cups cooked, still hot, elbow macaroni (equals 8 oz dry)

10 or 12 inch Bundt pan (the cooking time is written for a 10 inch)

NOTE: feel free to choose cheese of your choice, but keep the cheddar on top, it creates a beautiful glaze after the Bundt is inverted.
Preheat oven to 350° F.
Spray Bundt pan with nonstick cooking spray.
Add 1 cup shredded cheddar cheese to the bottom of the bundt pan.
In a large bowl mix melted butter, 1/3 cup bread crumbs, red pepper, mustard and paprika together. Whisk in the buttermilk, cream and eggs, whisk to incorporate.
Add in the remaining cheeses, stir to incorporate. Don't worry about any clumping, the hot macaroni will help to melt and incorporate.
Fold in the cooked macaroni while it is still hot; the heat will help to melt and incorporate the mixture.
Pour into prepared Bundt pan.
Bake in preheated oven for 55 minutes, take out and sprinkle with the last 1/3 cup of breadcrumbs. Bake 10 more minutes. Cool for 20-30 minutes. Invert Bundt onto a platter.
Serve with an array of beautiful fresh cut vegetables.