Your Ten-Minute Bowl of Bananas in Coconut Milk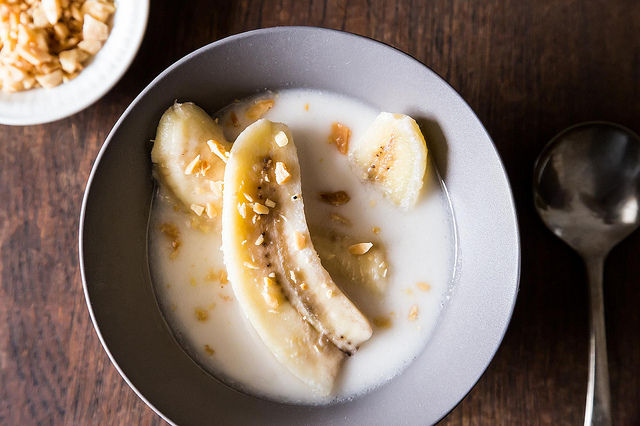 Author Notes: A last-minute, unfancy, deeply unphotogenic, invariably child-pleasing dessert, with very little sugar and a lot of warm, fuzzy feeling. Southeast Asian in origin, but top at whim. (Homemade coconut milk totally optional.) - Nicholas Day
Serves 4
Homemade Coconut Milk (optional)
1

cup unsweetened shredded coconut
Place the shredded coconut in a blender and pour in 2 cups of very hot water (but not boiling, to avoid the danger of the glass cracking). Blend on high for about 30 seconds, or until the coconut and the milk are throughly combined. Let it soak for five or ten minutes and then pour it through a fine-mesh strainer, straining again through a cheesecloth if necessary (or if you are feeling finicky). Squeeze the coconut solids to push as much liquid out as you can. If not using soon, refrigerate.
The Actual Dessert
4

bananas

1

can of coconut milk or the homemade coconut milk from above

1

tablespoon sugar

pinch of salt

optional toppings: chopped Marcona almonds, sesame seeds, cinnamon
Slice the bananas however you like. (I prefer slicing them lengthwise twice and then horizontally once, but that's just me. Chunks are fine too.) Warm the coconut milk in a saucepan and dissolve the sugar and salt over low heat. Then add the bananas and cook for several minutes (if you like them firm) or up to ten (if you like them mushy). Dish into bowls. Top at whim.
Jump to

Comments

(

2

)