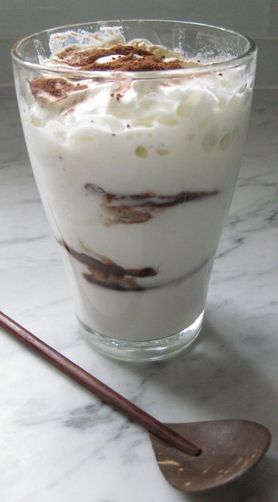 Author Notes: For the last two years, my daughter has been the top cookie seller in her Girl Scout troop. What that means is a lot of work on her mama's end and more than a few boxes of extra cookies. One of the more popular varieties is Samoas, which are shortbread cookies dipped in chocolate and layered with caramel and toasted coconut. It's unclear if the Girl Scouts named these cookies after Samoa, the Polynesian islands where coconuts grow rampant and excellent cocoa is cultivated. Nonetheless, here's a recipe that repurposes Samoas as an element of a slightly more grown up dessert, one inspired by a trip I took years ago to those iconic tropical islands in the South Pacific.
(To read the full story, see here: http://spiceboxtravels.com/2012/01/31/samoa-coconut-trifle/) - Beautiful, Memorable Food
Serves 4
Coconut Pudding
1

13.5 oz can coconut milk

1/2

tablespoon corn starch

1/4

cup sugar

1/2

teaspoon vanilla
Combine all ingredients in a saucepan and bring to a boil, stirring often. Take off heat and allow to cool for at least 20 minutes before assembling trifle.
Samoa Coconut Trifle
coconut pudding, prepared above

1

box Samoas cookies, broken into large pieces (if not Girl Scout Cookie season, substitute 8-12 Keebler Fudge Stripe or other chocolate covered shortbread or digestive cookie)

1 1/2

cup whipped cream

unsweetened cocoa powder for dusting
In 4 clear glasses, alternately layer prepared coconut pudding, Samoa cookie pieces, and whipped cream. End with a dollop of whipped cream and garnish with a sprinkle of cocoa powder. Chill for at least an hour before serving.
Jump to

Comments

(

1

)