Rhubarb semifreddo ice cream sandwiches
33
Save
If you like it, save it!
Save and organize all of the stuff you love in one place.
Got it!
If you like something…
Click the heart, it's called favoriting. Favorite the stuff you like.
Got it!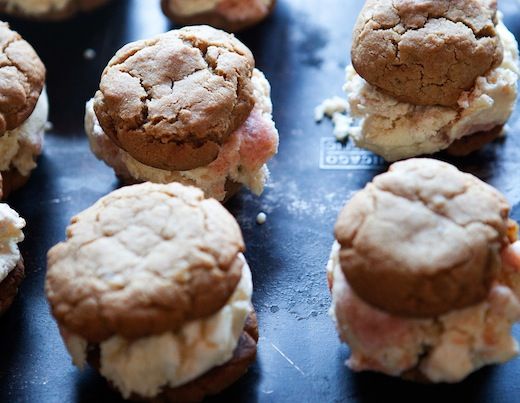 Author Notes: This is one of those recipes that just kind of built itself through my trying to decide what to do now that our backyard rhubarb plants are finally getting large enough to harvest from (finally!). I started with cake, but then wanted to do crisp, and then I thought maybe ice cream, but I didn't want to have to prefreeze the ice cream maker so I switched the idea to semifreddo. But then I decided maybe I really had wanted a rhubarb crisp, so I set out to make oat cookies to sandwich the (delicious!) rhubarb semifreddo between, but my husband begged me to make ginger cookies instead, and the compromise wound up being slightly salty brown butter cookies with crystallized ginger chunks which turn out to be amazing with the creamy, rhubarb filling. Really absurdly difficult and messy to eat, admittedly, but also really absurdly difficult to stop eating.
The semifreddo is adapted from a Donna Hay recipe I found and the cookie recipe I adapted from one I found in the LA Times online. - fiveandspice
Makes 12 sandwiches
Rhubarb semifreddo
1

pound rhubarb, washed, trimmed, and cut into 1/2-inch slices

1

cup sugar, divided

3

eggs

2

egg yolks

2

teaspoons vanilla extract

1 1/2

cups heavy cream

1/2

cup mascarpone
Combine the rhubarb with 1/3 cup sugar in a heavy bottomed saucepan. Cover and bring to a boil over medium heat, then uncover and cook over medium-low heat until the rhubarb is soft and completely falls apart into a sauce when you stir it, about 12 minutes. Allow this rhubarb sauce to cool to room temperature
Combine the remaining sugar with the eggs, egg yolks, and vanilla in a metal bowl. Set the bowl over simmering water and using a handheld mixer, beat this mixture at medium-high speed until it is thick and pale, 6-8 minutes.
Remove the whipped custard from the heat and continue to beat it with the handheld mixer for another 6-8 minutes, until it has cooled to room temperature.
In a separate bowl, whip the cream and mascarpone to stiff peaks. Gently fold the custard mixture into the whipped cream in three portions until fully combined. Then, gently fold in the rhubarb sauce until it is partially mixed in – there should still be streaks, the mixture doesn't need to be uniform. Transfer this mixture to a 2-quart (or so) container, lightly press plastic wrap onto the surface to cover and freeze until completely frozen, about 6 hours (or overnight).
Brown butter ginger cookies and assembly
10

tablespoons salted butter

1 3/4

cups dark brown sugar

1/2

teaspoon salt

2

eggs

2

teaspoons vanilla extract

2

cups plus 2 Tbs. all purpose flour

1/2

teaspoon baking soda

1/4

teaspoon baking powder

1/2

cup finely chopped crystallized ginger
Put the butter into a heavy bottomed saucepan and melt it over medium high heat. Continue to cook it, stirring frequently, until it has browned and smells nutty, about 6 or 7 minutes (it will foam a bunch in the process, which is fine, just keep stirring). Scrape the butter (making sure to get all the brown sediment) into a mixing bowl to cool down to room temperature.
Heat your oven to 350F. Once the butter is cool, stir in the brown sugar, salt, and vanilla extract until well combined. Then, stir in the eggs until just combined, the mixture won't look smooth, but you don't want to overmix.
In a separate bowl, stir together the flour, baking soda, baking powder, and candied ginger. Stir these dry ingredients into the wet ingredients until they just come together.
Form the cookie dough into 24 equal sized balls – I think they were about 1 ½ Tbs. each – and put them onto two baking sheets. Press each cookie flat (I found my cookies really didn't spread at all during baking – though in a more humid environment they may because the dough would be moister - so I had to smoosh them down to the proper thickness).
Bake each sheet of cookies in the oven until they just barely start to get done, about 8 minutes. You want them to be fairly undercooked so they stay chewy. Transfer to a cooling rack.
If you want to eat your ice cream sandwiches all immediately (a highly recommended way of eating ice cream sandwiches!), take out the semifreddo and let everyone scoop a big scoop of semifreddo out and smash it in between two still somewhat warm cookies and chow down. To assemble the sandwiches and save for later, allow the cookies to cool to room temperature. Take out the semifreddo and allow it to soften just enough to scoop well. Sandwich a generous scoop between two cookies, press together lightly, wrap tightly in plastic wrap or aluminum foil and place back in the freezer to harden. Repeat with all of the cookies (you'll have some semifreddo leftover – yum!) to make 12 sandwiches. Keep them tightly wrapped in the freezer for up to a couple of weeks. Also, if your cookies aren't underdone enough, they might be tough to bite through without squirting all of the semifreddo out from between them. If this happens, don't worry! Just twist the two cookies apart and eat each as an open faced ice cream sandwich with half of the semifreddo on it.