Green Goddess Chicken Sandwiches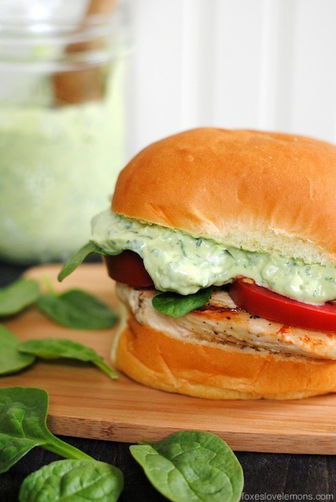 Author Notes: I'm officially in love with this healthy, creamy, herby sauce. It has a little tang from white balsamic vinegar and fresh lemon juice, and a bit of sweetness from honey. You can adapt this recipe for any leafy green herb you have around (you don't need four different herbs - just a few would be fine). Chervil, mint, and tarragon would be good too. You could also put some spinach or green onions in the sauce. Do whatever you want! Then grill up some chicken, dollop the sauce on, top with spinach and tomato, and enjoy! You could also shred up the chicken, toss it with the sauce, and make Green Goddess Chicken Salad Sandwiches! - foxeslovelemons
Serves 4
2

chicken breasts, cut crosswise in half and pounded to 1/2" thickness

Nonstick cooking spray

1

teaspoon kosher salt, divided

1/2

teaspoon ground black pepper

1

small clove garlic (or 1/2 of a larger clove)

1/2

cup fresh herbs (I used 2 tablespoons each basil, chives, cilantro and parsley)

1

avocado, peeled and pitted

7

ounces Greek yogurt

1

tablespoon honey

2

teaspoons fresh lemon juice

2

teaspoons white balsamic vinegar

1/4

teaspoon ground white pepper

4

hamburger buns or sandwich rolls

1

cup fresh baby spinach leaves
Prepare grill for direct grilling over medium heat. Spray chicken with nonstick spray and sprinkle with 1/2 teaspoon salt and ground black pepper. Place chicken on hot grill rack and cook 8 to 10 minutes or until chicken loses its pink color throughout and reaches an internal temperature of 165°. Remove chicken from grill and let stand 5 minutes.
Meanwhile, prepare Green Goddess Sauce: In food processor, pulse garlic until finely chopped. Add herbs; pulse again until finely chopped. Add avocado, yogurt, honey, lemon juice, vinegar, ground white pepper and remaining 1/2 teaspoon salt. Process until mixture is well combined (there will be visible flecks of herbs).
Build sandwiches using buns, spinach, chicken and Green Goddess Sauce.