49
Save
If you like it, save it!
Save and organize all of the stuff you love in one place.
Got it!
If you like something…
Click the heart, it's called favoriting. Favorite the stuff you like.
Got it!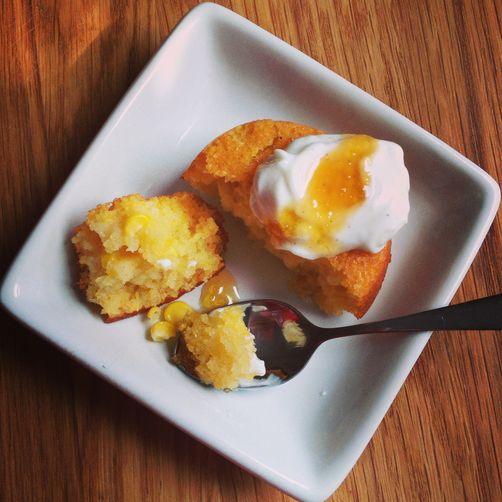 Author Notes: Ever on the search for the perfect quick breads and cakes, these beauties go a step beyond the usual corn bread and muffins. Not too much sugar and a touch of honey bring out the natural sweetness in the corn. - erinmcdowell
Makes 10 individual cakes
1/2

cup all purpose flour

1/2

cup polenta (or very coarse yellow cornmeal)

1/3

cup sugar

1 1/2

teaspoons baking powder

pinch salt

4

tablespoons butter, melted and cooled slightly

3

tablespoons honey

1

egg

1/2

cup buttermilk

1/2

cup sweet corn kernels

creme fraiche, as needed for serving

honey, as needed for serving
In a medium bowl, whisk together the flour, polenta, sugar, baking powder, and salt to combine.
In a medium bowl, whisk the butter, honey, egg. and buttermilk together to combine.
Combine the wet and the dry ingredients just to combine. Fold in the corn kernels.
Scoop the batter into a lightly greased standard muffin molds. Fill 3/4 of the way full (these cakes won't peak - the surface stays flat, making them look more like individual cakes than a standard muffin or cupcake).
Bake in a 350 degree oven until golden on the surface and baked through, 12-15 minutes. Serve warm with a dollop of creme fraiche and a drizzle of more honey.