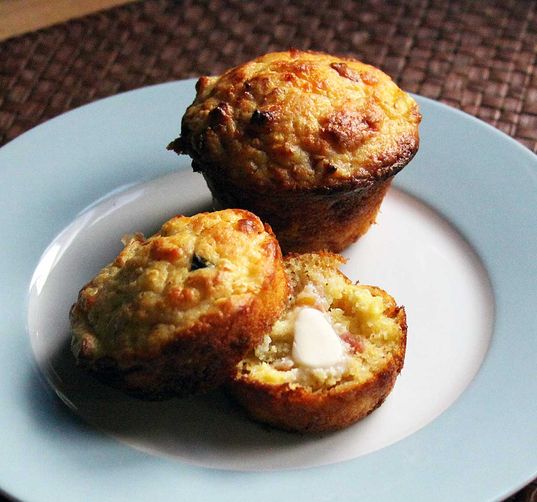 Author Notes: In my quest to simplify I have been considering an all inclusive breakfast muffin. I used to make a version that involved layering meat, veggies and cheese in muffin tins, drizzling with beaten egg and baking. They were decent but seemed a bit spongey and did not freeze well. I also had fond memories of a quiche-like muffin from Specialty's bakery in SF that seemed to have cornmeal or something more substantial to hold it all together. In my searches for something similar, I came across a recipe on bhg.com that scrambled some eggs and folded them into a cornbread batter and that seemed like a great starting point. In the midst of summer, we had made an odd sounding, but delicious breakfast of browned, sweet corn, eggs, cheese and maple caramelized ham and that is the flavor profile I wanted in these muffins. For the first batch, I followed the recipe pretty closely adding just the ham, corn and more cheese an reducing the sugar. They were really good and it seemed a great method for suspending any combination of meat/veggies/cheese. For the next batch, I added an extra egg to the scramble and a bit of baking soda to help lift as well as a roasted chile and had what turned out to be an amazing breakfast muffin.

I should add that I also made this in a loaf pan and cut it into slices. It cooked a bit longer and came out great. - savorthis
Makes 12
1

cup corn

1/4

teaspoon salt

1/2

teaspoon sugar (optional- I used this with frozen corn, but fresh wouldn't need it)

4

ounces sliced ham, cut into strips (about 1 cup)

2

tablespoons maple syrup

6

eggs, divided

1

cup flour

1/2

cup corn meal

1/2

tablespoon sugar

2 1/2

teaspoons baking powder

1/4

teaspoon baking soda

1

cup cheese (a sharp white cheddar was great)

black pepper

1

roasted poblano, diced (also great with hatch or other chiles)

1

cup Milk

1

teaspoon Salt

1/2

cup Butter, divided
Preheat oven to 400°.
Melt a tablespoon of butter in a pan over medium heat, add corn, salt and sugar (if using) and brown. Remove to bowl and wipe/rinse out pan.
Add another tablespoon of butter and cook ham until beginning to brown. Stir in syrup and cook until glazed. Add to corn. Rinse/wipe out pan.
Add a tablespoon of butter to pan and scramble 4 of the eggs with salt/pepper to taste until just barely cooked through. Add to bowl.
Mix flour, corn meal, sugar, salt, baking powder, baking soda and a good dose of black pepper. In another bowl, whisk milk and remaining 2 eggs and 1/4 cup melted butter. Stir dry and wet together then fold in cheese and ham, corn, eggs and chiles.
Use final tablespoon of butter to grease a muffin tin and add batter. Bake about 15 minutes or until a toothpick comes out clean.
Jump to

Comments

(

5

)