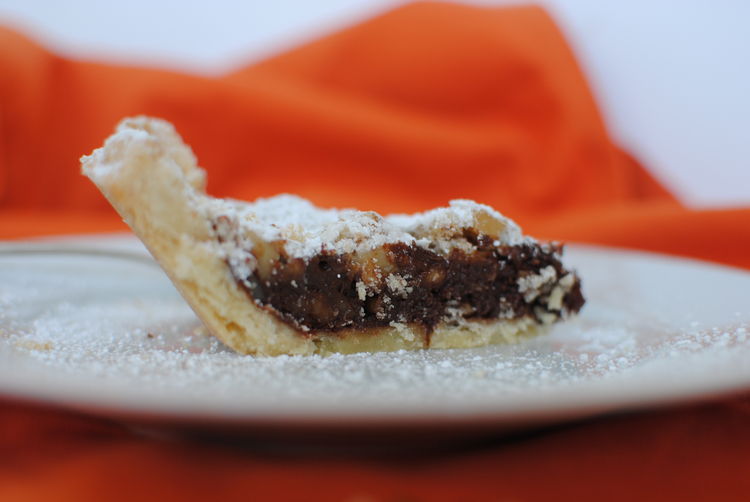 Author Notes: This is a pie for chocolate lovers with a shortbread crust. I adapted this recipe from a German tart that I found in a magazine years ago. This pie can be kept for several days and improves with age. Serve it with whipped cream. I only made this recipe once for my mother's 90th birthday and it was a hit. I would love to try this recipe with hazelnuts, and maybe some Nutella or a layer of caramel. - Sunnycovechef
Food52 Review: This pie was easy to make and delivered the chocolate punch promised by the author. It's not the prettiest pie, especially with the meringue-type topping. However, the taste was incredibally good. The topping actually gave a nice, crunchy texture to the slice. It was a winner with my family. - FoodTherapy
Serves 8 to 12
Pie Crust
1 1/4

cup unbleached all-purpose flour

1/2

cup sugar

8

tablespoons cold butter, cut into small cubes

1

egg yolk

Pinch of salt

1

tablespoon crème fraîche
Preheat oven to 375° F. Butter a 10-inch pie pan.
In a food processor, pulse flour, sugar, salt, and butter until the butter is reduced to pea-sized pieces. Add crème fraîche and egg yolk and pulse until incorporated. Put dough on a cool surface and flatten with the heel of your hand. Form into a ball. The dough will be crumbly. Wrap in plastic wrap and rest in the refrigerator for 30 minutes.
Roll out dough between two pieces of plastic wrap and put in buttered pan. Bake for 5 minutes.
Filling and Topping
3 1/2

ounces bittersweet chocolate (I used Lindt)

2

eggs, separated

1/4

cup plus 2 tablespoons sugar

1

tablespoon flour

1

teaspoon orange zest

1

cup chopped walnuts, divided

1

egg white

1/2

cup powdered sugar
For the filling, melt chocolate in double boiler, then cool a bit. Beat the 2 egg yolks with the sugar until fluffy and light. Stir into the chocolate. Add 1/2 cup walnuts and the flour. In a separate bowl, beat 2 egg whites until stiff. Gently fold the whites into the chocolate. Pour filling into the pie shell. Bake for 20 minutes. Remove from oven. Reduce heat to 250° F.
For the topping, beat 1 egg white until stiff, and then beat in 1/2 cup powered sugar. Fold in 1/2 cup finely-chopped walnuts and gently put on top of pie. Bake at reduced heat for 10 minutes, or more if needed. Cool and sprinkle with powered sugar.
Jump to

Comments

(

2

)