Chocolate, Peanut Butter, and Banana Pie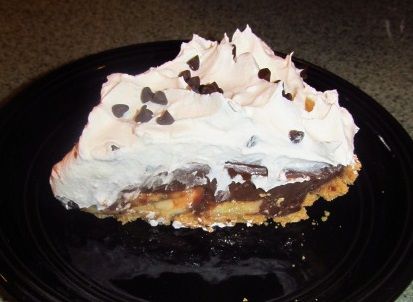 Author Notes: I was given this recipe several years ago by a friend's grandmother. I make this pie for every family gathering, and it is always a big hit. - Jason
Food52 Review: This recipe is an easy, delicious combination of chocolate, peanut butter, and bananas, topped with homemade whipped cream and mini chocolate chips. I followed the exact ingredients and directions without any issues. The pudding is great -- thick, very tasty, and dense. The pie holds together well and it looks appealing when served. The banana flavor is just right. I can see how this recipe would be a family favorite. I've added the recipe to my personal "Best of the Best" recipe file. Indulge yourself today and make this pie! - Hippy in the Kitchen
Serves 6 to 12
Graham Cracker Crust
1/3

cup butter, melted

1 1/2

cup graham cracker crumbs

1/4

cup granulated sugar

3

bananas (preferably slightly green)
Preheat oven to 350° F.
In a small saucepan or microwave, melt the butter.
In a medium bowl, combine graham crackers, sugar, and butter, mixing until combined.
Press into a 9-inch pie pan. Spread the crumb mixture evenly on the bottom and sides.
Bake for 8 to 10 minutes, until golden brown.
Cool completely, then slice the bananas in penny rounds and spread evenly on the bottom of the crust.
Chocolate and Peanut Butter Pudding
1/4

cup cornstarch

3/4

cups granulated sugar

2

eggs

2

cups milk

2

tablespoons butter

1

teaspoon vanilla extract

1/2

cup creamy peanut butter

10

ounces fine milk chocolate, chopped evenly in small pieces (you can also use mini chocolate chips)
In a saucepan, whisk together cornstarch, sugar, eggs, milk, butter, and vanilla. Cook over medium heat until the mixture boils, then whisk constantly for an additional two minutes, until pudding becomes thick.
Add chocolate and peanut butter, then stir until everything is melted and thoroughly combined.
Pour into pie shell, making sure to cover all the banana slices.
Refrigerate until set, about 4 hours.
Before serving, cover the pie with homemade whipped cream, and decorate with chocolate curls or mini chocolate chips.
Jump to

Comments

(

0

)