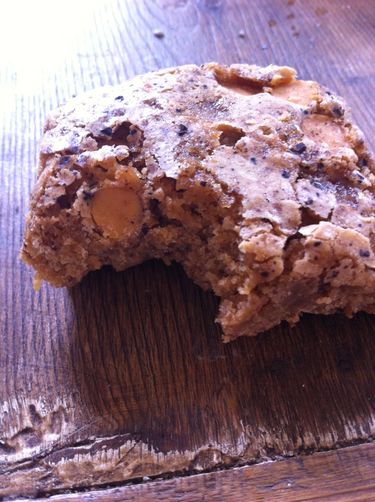 Author Notes: I remember falling in love with Butterscotch, it was 1976 and I had just finished my first est for Children Seminar. (though of you who haven't heard of est, its also known as the Forum or Landmark and back in the 70's they had est training for children - even weirder in that a friend of a friend of mine was in my est group and via facebook remembered me 30 years later) and after a grueling day of getting to know myself and raising my consciousness I was provided sustenance via a Dixie cup filled with salted peanuts, raisins, and butterscotch chips. ( To be fair we had lunch too...cold freid chicken (yum) and salad with black olives and mealy tomatoes- I cried I didn't want to eat the olives, but since I already informed them I was allergic to tomatoes I had to eat the olive its very est-like not to let you get away with stuff like not eating olives because they are "hairy" ) OH MAN those Butterscotch Chips!- as awful as that day was I was happy to go back the next day, just so I could have more of those salty creamy sweet toasty flavored yummy bits again... I lived in a world where treats were either made from any combination of carrots, zucchini, carob or honey or were relentlessly Jewish like Poppyseed Hamentashen. Butterscotch was so foreign, so deliciously WASP-y like American Cheese or White Bread, I was hooked and later became somewhat addicted to Butter Rum Lifesavers.

Flash forward a lifetime or two to last week's Polarpocalypse or whatever and....I don't want to be all braggy but my husband got me a tangerine KitchenAid for Christmasukkah...needless to say I've been dying to bake up a storm. But it's also January and we did not show so much as a modicum of restraint during the holidays, there was a day where we had Cheeseburgers for breakfast for goodness sake! So because we don't want to have to buy all new clothes or like die, we're trying to rein it in a bit. But the need to bake prevails..plus it was -5 degrees outside. I just got back from the accountant and I wanted something warm and sugary and I found a recipe on the King Arthur Flour website for Butterscotch Blondies and because I can't let things be I decided to kick them up a bit both flavor wise with a glop of Miso and to add a bit of nutrition hah!- ok that part was not exactly intentional, I thought would add walnuts but I had no walnuts so I subbed FLAX SEED MEAL and it worked awesome. Right now I am making a modified version of thinner bars for Ice Cream Sandwiches for a Superbowl Party- They will be filled with Vanilla Ice Cream enhanced by ginger in it's many forms and graham cracker crumbs.

Anyway these are SOOOOO delicious, very sweet and really not as bad for you as other things that are this sweet and satisfying. - Aliwaks
Serves one or many :)
4

ounces Unsalted Butter

1

tablespoon (Heaping) Blond Miso

1.75

cups Dark Brown Sugar

3

eggs

1

teaspoon Apple Cider Vinegar

1

tablespoon Scotch or Bourbon- Smokier the better

1

Vanilla Bean (Scraped)

1

teaspoon Salt

1.5

cups King Arthur White Whole Wheat Flour

1/4

cup Flax Seed Meal

1/2

cup Butterscotch chips (optional)

1

teaspoon or so Smoked or Regular Flaked Sea Salt

1

tablespoon Baking Powder
Pre-Heat oven to 305, & prepare a 9" x 13" baking pan with spray butter or regular butter
Put Butter, Vanilla Bean & Miso over a low flame to brown this takes a awhile, to give an idea of what awhile means: during this time I got all my other ingredients measured out, then I swept my kitchen, then I vacuumed the bathroom because I have cats, then I remembered reading that Kerry Washington gives all her friends Dyson Vacuums as presents, and just as I was imagining being friends with Kerry Washington and talking to her about my amazing new vacuum ---my kitchen suddenly smelled like nutty deliciousness and the butter had browned.
Add the Brown Sugar to the warm butter and stir around to combine
Scrape mixture into the bowl of YOUR AMAZING BEAUTIFUL SHINY TANGERINE COLORED MIXER (really though any mixer will do) with whisk attachment on medium speed and whisk it around for a few minutes
Add eggs 1 at a time, pausing in between to allow them to fully incorporate ( I wish I knew why this is good but I don't, probably something to do with air)
Add Vinegar & Scotch, and get them all mixed in there (this sounds like it probably was a cure for something like and earache or an amputated arm in Scotland sometime around 1750-Aye Lass just warm a wee dram of Vinegare and a punt a scotch whiskey in a sheep bladder til warm as twas a living thing..OOPS I digress again, but wasn't it just Robbie Burns Night or something?)
Mix the in the Cholesterol reducing! flax meal, baking powder & salt into the flour...Lower the speed of you mixer to like 1, I cannot tell you how important this is..I can however show you a picture of the bit of cocoa powder on my wall that I could only reach enough to make an ugly smear- anyway, lower the speed and Add the dry ingredients in about 3-4 batches, pausing to incorporate each time ( again why mess with a good thing)
Give a few more mixes on medium speed just for fun and pour into prepared pan, smooth the top with a off set spatula
Bake until it just pulls away from the pan, still a bit sticky-wicky in the center
Sprinkle the chips (if using) over the warm lusciouness and spread so as to make a glaze-ish topping, then sprinkle with salt. You could also use very dark chocolate in place of butterscotch chips, because who knows whats really in those things...some one should make nice ones without chemicals.
Let cool - and cut into neat squares with a knife set in hot water. I know its hard to wait because the whole house smells like butterscotch, and lord knows you could have already gotten into the scotch, you naughty kitty you, also not much is better than hot gooey cake...but you know what if you don't care about nice pretty edges get a bowl and a spoon and some vanilla ice cream or some barely sweetened whipped cream and go nuts! Here's a secret you can do that with a part of it, let the other part cool cut into nice squares and no one ever has to know you a had a warm butterscotch party in your mouth.
Substitutions: You can sub Almond Meal for the Flax Seed Meal or Ground Toasted Walnuts... you could also add toasted walnuts or some cashews. If you want to go Vegan you could use Earth Balance, just don't brown it and leave out the extra salt & Sub mashed Banana or Tofu for the Eggs.
Jump to

Comments

(

0

)