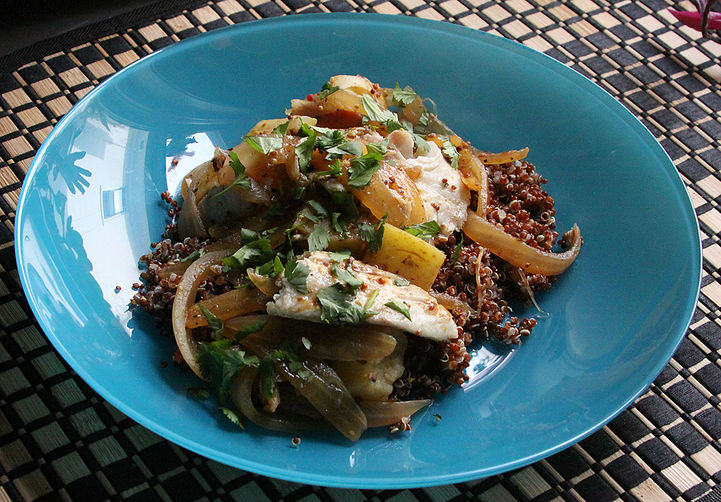 Author Notes: When we lived in San Francisco we went often to a little restaurant in the Mission called Bissap Baobab. They had delicious hibiscus cocktails and a mustardy fish dish that I loved. I was remembering that dish and trying to figure out what went into it and came across a lot of references to a Senegalese dish made with variations of lemon, vinegar and mustard. It did not sound exactly like what I remember from years ago but it did sound delicious so I gave it a go. I decided to start with some toasted coriander, black pepper and chiles and the results were delicious, if not very, very spicy. When I first tried a sample of a dried arbol chile, it was not so hot, but a second little nibble and my lips were on fire. I did find that cold cream cheese, applied as lipstick, does wonders for stopping the burn...and chose to use only two small chiles without seeds in the dish. - savorthis
Serves 4
1

teaspoon coriander seeds

1/4

teaspoon black peppercorns

2

small red chiles (arbol are nice, but hot!)

1

pound white fish (I used tilapia) whole, or fillets

2

large yellow onions, sliced into moons

4

tablespoons lemon juice

6

tablespoons cider vinegar

2

tablespoons whole grain dijon mustard

2

tablespoons peanut oil

3

cups broth (I used dashi, but chicken or vegetable works too)

3/4

pounds yellow potatoes, cut into 1" cubes
Crush the coriander, pepper and chiles with a heavy sauce pan or grind in a mortar and pestle. Toast until fragrant in pan and add to a bowl. Mix in onion, lemon juice, vinegar and mustard. Tuck fish into onions until covered and marinate about an hour.
Heat oil in pan over medium high heat. Remove fish, salt each side and cook for a few minutes on each side. Remove to a plate.
Add just the onions to the pan and cook, stirring occasionally until browned. Pour in remaining marinade and broth and scrape up brown bits in pan. Nestle potatoes into onions, cover and simmer over medium low until potatoes are tender. Add fish back to pan to warm. Serve over rice, quinoa or another grain.
Jump to

Comments

(

2

)