Ham, Gruyère, and Caramelized Onion Galette with a Fried Egg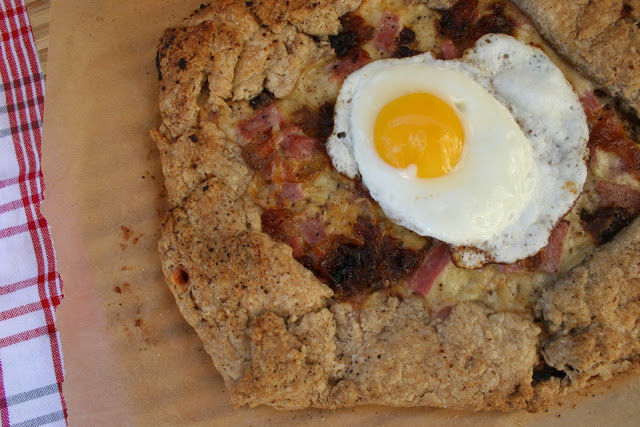 Author Notes: The summer between my junior and senior years of high school, I studied abroad in France, in the small town of St. Brieuc, located in the Celtic region of Brittany (or Bretagne). At that point my French was largely untested -- I had only had three years of high school French, an introduction in middle school, and some lessons in elementary -- but the program was soon to change all that. The main rule dictated that as soon as the plane hit the ground in Paris, we were not allowed to speak English until we had completed the program seven weeks later...or else we got sent home. So when we finally pulled into the town parking lot with the host families waiting outside, I remember being a little scared to get off the bus. But I didn't know then the wonderful home I'd be welcomed into by Anny, Jean-Marie, Simon, and Clément Lachevre.

I'm not sure if the program just did a superb job matching students with hosts, or if I was just lucky, but despite my piecemeal French, I felt immediately comfortable -- the Lachevre's home felt so similar to mine and there was a piano to play, a yard to kick around the soccer ball with my host brothers, and a room all my own with a view of the garden and a desk where I could write letters and leaf through back issues of French Vogue that Anny had set out for me. The Europe Cup was that summer, so we watched a lot of soccer, went on excursions to nearby fishing villages, and every Friday, we ate Breton galletes.

These are not the galettes that we eat here. Breton galettes are in fact a savory crepe, made from buckwheat flour, and stuffed with Emmental or Gruyère cheese, jambon (ham), and a fried egg. Sometimes other ingredients are added -- Clément, for instance, always requested tomatoes in his. The meal is traditionally enjoyed with a glass (or two) of hard Breton cidre, which was indeed another compulsory item on our own Friday dinner table. I remember once when Jean-Marie and Anny had plans to go out on a Friday, Anny specifically taught me how to make galettes, just so Simon, Clément, and I wouldn't miss our tradition.

Back in November, I headed down to North Carolina for my friends Lora and Joe's baby shower. On the way home on Sunday, we all took a trip to Foggy Ridge Cider, a woman-owned orchard and hard cider producer outside of Floyd, VA. Unlike the overly sweet cider varieties common here in the states, Foggy Ridge makes a European-style cider: complex, and more dry than sweet. Throughout our tasting I was reminded me of those Friday night dinners at the Lachevres.

So on my ride home from the orchard, a new member of the Foggy Ridge Cider Club with a few bottles in tow, I decided I would make a Breton galette-inspired galette, that I could pair with the cider I'd brought home. I've made this a few times now -- for our Southern Friendsgiving, as an appetizer for Christmas dinner, and for a Sunday brunch. The rye crust is adapted from 101 Cookbooks. - nothinginthehouse
Food52 Review: I like the use of beer in this dough, and I actually could have done with a little more rye -- the cheese/ham/onion filling is hearty enough to stand up to it. The mustard is a nice, subtle presence in the background. I know I don't have to convince this crowd that a fried egg on top is always a good idea, and it does its job well here. Hooray for egg on top. Overall, it is delicious. - Stephanie Bourgeois
Makes 1 galette
For the crust
2/3

cups rye flour

1 1/2

cup all-purpose flour

1

teaspoon fine grain sea salt

1

cup unsalted butter, cold and cut into chunks

1/3

cup dark beer, cold
In a large bowl, whisk together the flours and salt. Using a pastry cutter or knife and fork, cut in the butter until it is the texture of cornmeal and peas.
Make a well in the center of the butter-flour mixture and pour in the beer. Using a wooden spoon, combine until the dough forms together into a flat ball (you may need to use your hands at the end). Fold the dough over itself and wrap in plastic wrap, then let chill in the fridge for about 30 minutes.
For the filing
1

medium-to-large onion, sliced

1/2

cup ham steak, diced

3/4

cups Gruyère, shredded

1

tablespoon balsamic vinegar

1

tablespoon grainy mustard

splashes olive oil

pinches salt and pepper

1

large egg

1

tablespoon butter
Preheat the oven to 375° F. Add 1 tablespoon olive oil and sliced onions to a cast iron skillet and place over medium heat. Stir to coat the onions with olive oil. Cook the onions, stirring occasionally, until translucent. Sprinkle them with salt and pepper and reduce heat to medium-low. Cook 25 to 30 more minutes, until the onions are caramelized.
While the onions are cooking, prepare the rest of the filling. In a small bowl, whisk together the balsamic vinegar and mustard and set aside.
After 30 minutes, remove dough from the fridge and unwrap. On a floured surface, roll it out into an elongated rectangle. Pick up the bottom of the rectangle, and fold the dough 2/3 of the way up. Now pick up the top third of the dough and fold it over the bottom. Sprinkle more flour over the dough, rotate it 90 degrees, and then repeat the same folding technique.
Roll out the dough into a 10- or 11-inch circle on a sheet of parchment paper. Transfer the parchment and dough to a large cookie sheet.
On top of the crust, brush on the mustard-vinegar mixture and spread evenly. Add the cheese, ham, and caramelized onions, scattering them evenly across the crust, but leaving a 1-inch border. Fold the edge over the top of the filling and seal. Brush olive oil on the crust edges and sprinkle the entire tart with sea salt and pepper.
Place a sheet of aluminum foil over the filling, leaving the crust exposed (this will keep the filling from browning too quickly or burning). Bake for 35 to 50 minutes until the crust is browned. Remove from the oven and cool on a rack while you fry the egg.
Heat a pat of butter in a small skillet. Fry the egg, sunny-side up, until the white is no longer translucent and the edges have crisped. Using a skillet, transfer the egg to the tart. Serve immediately and enjoy with a glass of hard, dry cider -- I recommend Foggy Ridge First Fruit!
Jump to

Comments

(

0

)