Rhubarb Strawberry Datschi
3
Save
If you like it, save it!
Save and organize all of the stuff you love in one place.
Got it!
If you like something…
Click the heart, it's called favoriting. Favorite the stuff you like.
Got it!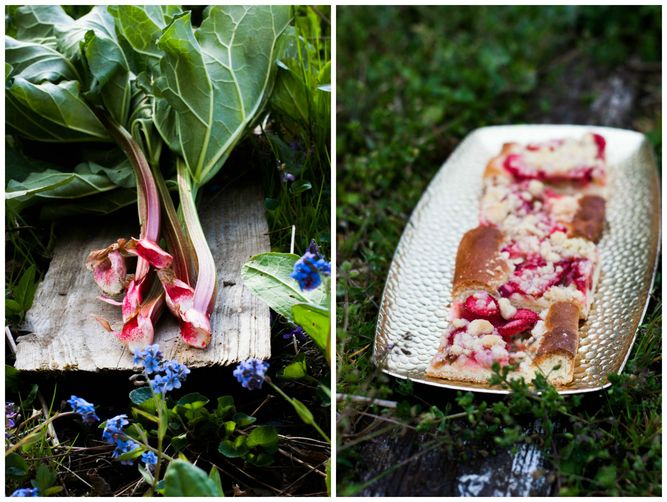 Author Notes: Datschi is a type of sheet cake, and is especially enjoyed in Bavaria and the Allgäu. The topping alternatives for a Datschi are endless. The most known version is made with Italian Prune Plums, called Zwetschgen, although, an apricot version won my heart last summer. In honor of spring, I decided to make a Datschi topped with spring ambassadors: tart rhubarb and juicy, sweet strawberries. And as it's Datschi we're talking about here, it was clear that there also needed to be streusel. Lots of it.

The rhubarb and strawberries as well as the thin crust make this Datschi the more sophisticated, elegant sister of the traditional plum topped "Zwetschgendatschi". I made two slightly different versions: with and without cinnamon. It was, however, impossible to decide which one was more delicious so I will leave it up to you. I strongly encourage you to serve it with whipped cream, although, I'm sure coconut whipped cream or vanilla ice cream would be wonderful as well. On a different note, I like to make this dough by hand, but you can definitely make it in your stand mixer if you wish to.

The dough is adapted from Nicole Stich of delicious:days (for the recipe: http://www.deliciousdays.com/archives/2009/09/03/zwetschgendatschi-wherever-you-go/). - Sini Ellen | My Blue&White Kitchen
Makes 1 sheet cake
Dough
?

cups + 1 ½ tbsp (1 dl) lukewarm milk

0.5

ounces (14 g) fresh yeast [OR 0.16 oz / 4,5 g / 1 ? tsp (intant) active dry yeast, used according to packet instructions]

2

ounces (55 g) granulated sugar

1

pinch fine sea salt

1

egg (M)

~ 10.6

ounces (~ 300 g) all-purpose flour

2

ounces (55 g) soft unsalted butter
Topping
4.6

ounces (130 g) all-purpose flour

2.5

ounces (70 g) granulated sugar

1 large

pinches fine sea salt

2.5

ounces (70 g) unsalted butter

~ 12.5

ounces (~ 350 g) rhubarb, sliced

~ 12.5

ounces (~ 350 g) strawberries, hulled & sliced

2

tablespoons granulated sugar

optional: cinnamon

to serve: whipped cream
To make the dough: In a medium-sized bowl, combine milk and crumbled yeast. [If using instant active dry yeast, skip this step. Combine yeast with some flour and add to warm, about 42°C / 108°F, milk mixture just before adding the rest of the flour.] Stir until yeast is completely dissolved. Add sugar, salt, and egg. Whisk until combined. Gradually add most of the flour and knead. Add butter and knead until well combined. Continue to knead and add flour until the dough comes clean off the sides of the bowl and doesn't stick to your hand.
Shape into a ball and cover with a kitchen towel. Let the dough rise in a warm place for about 1 hour, or until it's almost double in size.
Meanwhile, preheat the oven to 180°C / 355°F. Line a baking tray with parchment paper.
To make the streusel: In a small bowl, combine flour, sugar, salt, and butter until you have a crumbly mixture. If not using immediately, put the bowl into the fridge.
Arranging the Datschi: With a rolling pin, roll out the dough until roughly the size of the baking tray. Spread out on the baking tray and pull into shape. Spread the rhubarb and strawberries in an even layer over the dough. Sprinkle with sugar and, optionally, with some cinnamon. Sprinkle the streusel over the fruit.
Bake for 25–30 minutes, or until the edges are dark brown. Let cool and cut into squares and serve with a generous dollop of whipped cream.
Jump to

Comments

(

0

)