Crunchy, Creamy, Healthy Layered Panko Chicken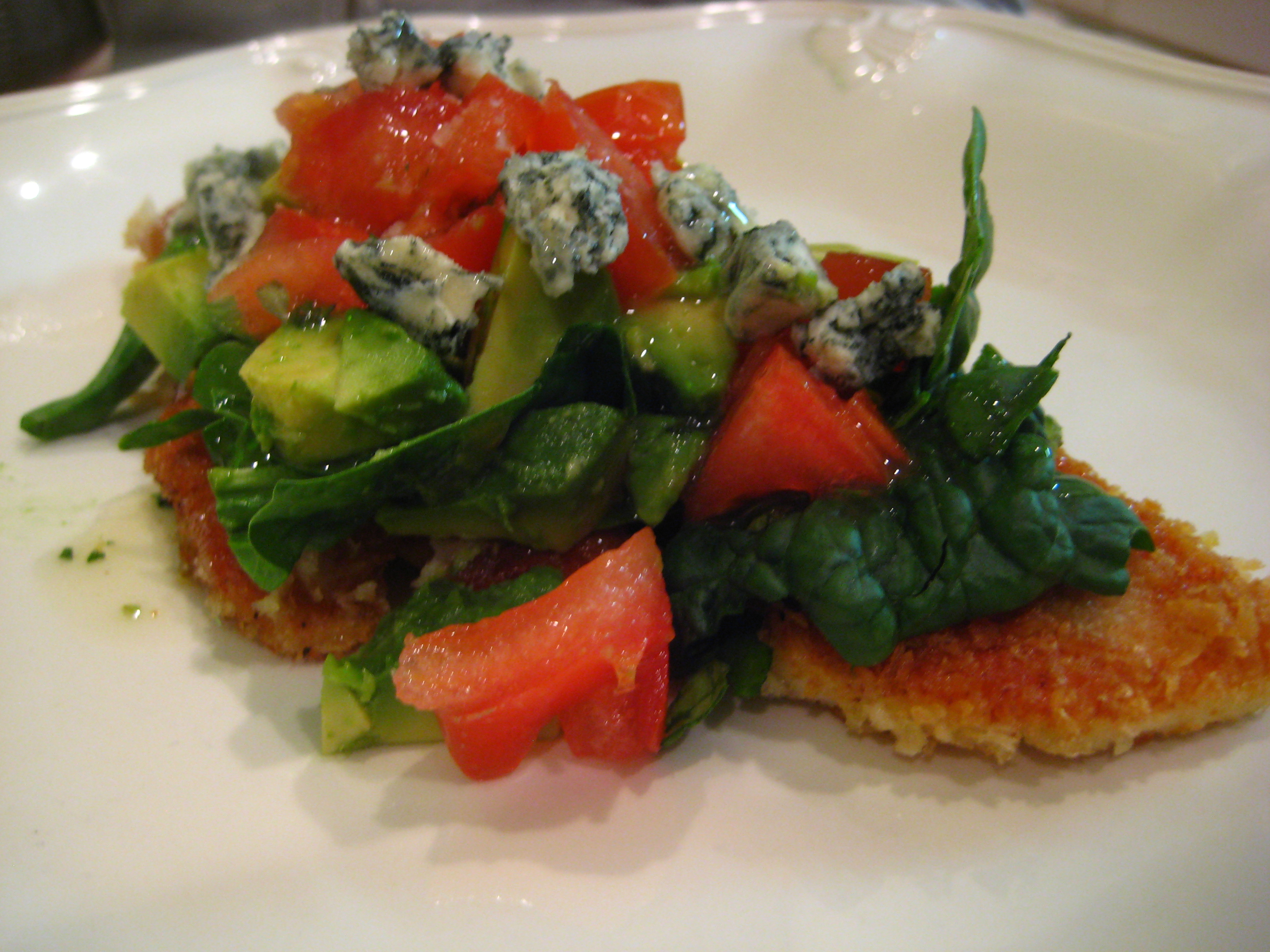 Author Notes: I've been posting the dinners we cook at home together at the end of the day after a long day of work to show that busy working families can cook every night together...and cook healthy, fresh meals. This is my favorite 15-Minute Healthy Work-Night Meal and when we cook it together, it is even easier and more fun. - GirlCook
Serves 2-4-4
Layered Panko Chicken
4

Chicken or turkey cutlets, pounded to 1/4" thickness

1

Egg, lightly beaten

3/4

cups Panko crumbs (wheat Panko is also great)

Salt and Pepper to taste

3

tablespoons Extra virgin olive oil

1

cup Mesclunor spinach, fresh

1

Tomato, diced

1

Avocado, diced

1

ounce High-quality Roquefort or bleu cheese (you'll use less if you use a great quality cheese!)

1/4

cup Vinaigrette (see below)

1/4 fresh lime

Coarse salt (French Fleur de Sel is awesome here, very light and delicious)
1. Dip cutlets in the beaten egg and dredge in the Panko crumbs.
2. Heat olive oil on medium flame in large non-stick skillet and add the cutlets, cook for 7 minutes on each side or until they reach 165 degrees. (Variation: these cutlets can be baked in an oven if you'd rather not saute them, they'll take a little longer--350 degrees for 20-30 minutes until they reach 165 degrees)
3. Drain on paper towel lined plate when done
4. Now layer the ingredients this way (or whatever you choose): Note: You can swap ingredients you have on hand. This combination is my favorite, it has so many wonderful tastes and textures: creamy, crunchy, salty, sweet, pungent, smooth...once you have it, you'll make it over and over:
Turkey or chicken cutlet Greens Chopped tomato Diced avocado 4-5 bits bleu cheese Drizzle of vinaigrette to taste Splash of lime Sprinkle of coarse salt
We served this with oranges and roasted almonds for dessert (come to think of it, this would be great sprinkled with some chopped almonds).
Vinaigrette: I love the combination of champagne vinegar and walnut oil but any vinaigrette will be great with this dish.
3

tablespoons Champage Vinegar

1/4

cup Walnut Oil

Salt & Pepper to taste

1/4

teaspoon Dried parsley

1/4

teaspoon Dried oregano

1/4

teaspoon Honey
1. Put vinegar in small bowl and pour oil in slowly while whisking constantly which will emulsify the dressing. Whisk in remaining ingredients.
Jump to

Comments

(

1

)