Waiting for Bonaparte Muffaletta (the remix edition)
25
Save
If you like it, save it!
Save and organize all of the stuff you love in one place.
Got it!
If you like something…
Click the heart, it's called favoriting. Favorite the stuff you like.
Got it!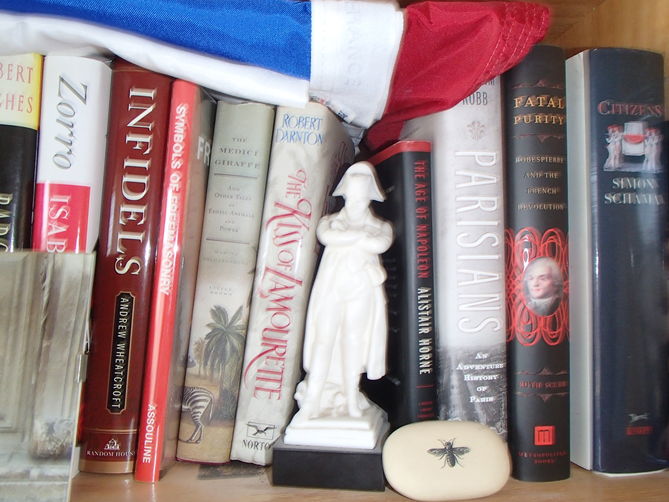 Author Notes: One of the greatest traditional food items to come out of New Orleans is the muffaletta sandwich. Central Grocery is renowned for theirs. But you can also taste a fine one on the café menu at Napoleon House on Chartres in the French Quarter. Napoleon House gets its name from the fact that in 1821 it was offered as a residence to Bonaparte during his exile. Being an unapologetic Bonapartist myself, mine is a tribute to Boney. Now let's see if he shows up for lunch. The primary components of the sandwich are ham, salami, provolone cheese and topping of olive salad, packed into a crusty round loaf. The olive salad should be generous but not overwhelm your pork product.
Because it's difficult to find the proper Italian style round bread loaf outside of New Orleans you might want to think about doing as I prefer and make your own. But what you really want is a good-sized, round and crusty Italian loaf. The ingredients indicated here for the olive salad will produce enough for two sandwiches this size. To serve, you can/should halve or quarter the assembled Muffaletta. - pierino
- pierino
Food52 Review: "This is really good... wow!!" So said one lucky tester of pierino's excellent muffaletta. With his usual unwavering attention to details, large and small, pierino has created yet another exceptional recipe. He has reproduced exactly the olive mixture one finds on the best muffaletta sandwiches in New Orleans. We put the salad on the bottom half of the sandwich, to allow the flavorful dressing, pickles and olives to find their way into the bread. On a scale of 1 to 5, I'd give this a 7, enthusiastically recommending it for Editors' Pick honors. - AntoniaJames
- A&M
Serves an army
For the olive salad
½ cup Spanish pimento olives

½ cup pitted black olives (kalamatas work fine)

4-6 cornichons

2 cloves garlic (see note below)

2 tsps dried Italian oregano

½ cup extra virgin olive oil

2 tbs red wine vinegar

¼ tsp ground black pepper
Sandwich components
1

six ounce, crusty Italian roll,

¼ pound thinly sliced capicola (as the name suggests, this is most often made from pig neck)

¼ pound thinly sliced premium cooked or cured ham (even prosciutto or jamon Serrano)

¼ pound sliced provolone cheese

A little creole mustard
It's easy to make the olive salad in the bowl of a food processor using the olives, cornichons, garlic, oregano, olive oil, vinegar, and black pepper. Give everything a few quick pulses. It should remain a bit chunky---somewhat more coarse than a tapenade.
Spoon the olive salad into a non-reactive bowl and cover with cling wrap. It should then go into the refrigerator to rest for a 5 to 8 hours, and will keep overnight.
To assemble, use a sharp bread knife to divide the loaf into two halves horizontally like a giant hamburger bun. Smear some mustard on the bottom half and top with ham, capicola, provolone and generous amount of olive salad. Cover with the top portion and divide into halves or quarters. Bring napkins.
Notes to the cook: for the garlic I use a "garlic confit" that I learned from Thomas Keller's BOUCHON cookbook. What that consists of is about 40 peeled cloves of garlic covered in canola oil and poached for about forty minutes---a flame tamer is advised. Store the garlic and oil in a sealed container in the refrigerator. After a few days the oil will be highly perfumed. I think the little Corsican would like that touch. It's handy to have on hand and you can add a little of the oil to the salad. Otherwise use fresh garlic cloves.
The cornichon included in the olive salad is untraditional but one of my New Orleans friends really liked it, so I think it really works. Don't be stingy with the olive salad.
Jump to

Comments

(

7

)
Tags: can be made ahead, lunch, New Orleans, serves a crowd, travels well