Grilled Tandoori Chicken Skewers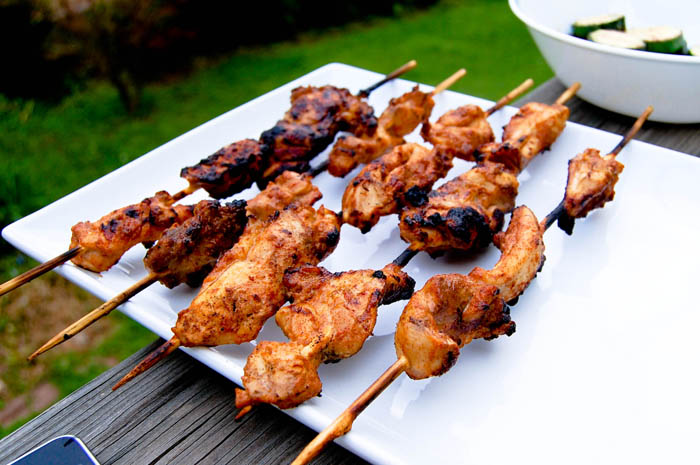 Author Notes: Perfect for the summer cookouts! The chicken is juicy, flavorful, and just delicious! - mtlabor
Serves 2
1/2

cup plain yogurt

juice from 1 lemon

1

onion, chopped

2-3

garlic cloves, minced

1 inch piece

ginger root, peeled and minced

1

tablespoon garam masala

1

tablespoon paprika

1

teaspoon cumin

1

teaspoon coriander

1/2

teaspoon cayenne pepper

salt and pepper to taste

3-4

boneless and skinless chicken thighs, cut into strips
In a large plastic Ziploc bag, combine all ingredients, except the chicken. When you get a nice orange-pinkish color, you know it's mixed well. I like to close the bag and just mush everything together. Not the most conventional way, but it works and it's rustic.
Add the chicken, release all air from bag, seal up, and roll tight. Rolling the bag up in the end is good because it allows the marinade to penetrate the chicken easier because of less surface area. Set in fridge overnight.
If using bamboo skewers, make sure to soak them for at least 1 hour in warm water so they don't burn easily on the grill.
Heat a charcoal grill under medium high heat.
Skewer the chicken pieces onto the skewers and grill for about 4-5 minutes per side. Remember you're using chicken thighs here, so they'll be pretty tender and juicy.
Jump to

Comments

(

1

)