Cantaloupe and Cucumber Popsicles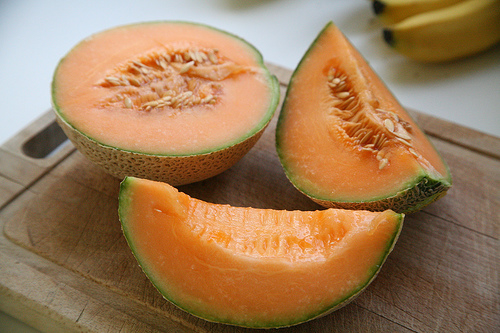 Author Notes: This recipe was inspired by a trip to mexico. I drank a lot of micheladas (beer + lime juice + salt + hot sauce) during my visit and I recently came up with this refreshing popsicle version (including fruit & veg!) If you'd like, you can also add a generous pinch of salt along with the lime wedge for a spicy-sweet-salty-cold combination. - runnerskitchen
Serves 12
1

cucumber, peeled and chopped

1

medium cantaloupe, peeled and chopped

1

jalapeno, seeded and chopped

1/2

cup sugar

1

lime, sliced
Combine the cucumber, cantaloupe, jalapeno, and sugar in a blender and process until pureed.
Fill popsicle molds (or small plastic cups) with the mixture. Freeze for at least 6 hours. If using plastic cups, add in a small wooden stick (popsicle stick) about an hour into the freezing process.
Serve with a slice of lime (for squeezing over the popsicle).