Grilled Swordfish with Mango Salsa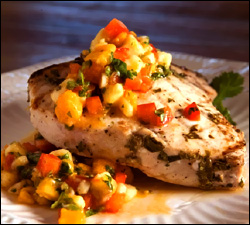 Author Notes: I love this recipe, because the Mango gives it the sweet flavors of the Caribbean while the chili pepper gives it a subtle heat. The lemongrass ties both flavors together for the swordfish. - Isabelle
Serves 4
Mango Salsa
4

medium ripe mangoes (diced small)

1/4

red onion (diced very small)

1/2

juice of ripe lime

1/8

small chili pepper (diced very, very small)

1/8

lemon grass stalk (sliced very thin)

1/4

cup cilantro (chopped)

1

teaspoon sea salt

1/4

teaspoon coarse black pepper

1

tablespoon extra virgin olive oil

1/2

juice of ripe lemon
Combine all ingredients, except mangoes, in a bowl, lightly toss, cover with plastic and let it rest in the refrigerator for 30 minutes. Keep diced mangoes chilled in the refrigerator in a separate, covered container. Only add mangoes to this mix, gently toss and serve with the grilled swordfish right before serving.
Grilled Swordfish
4

Fillets/Steaks of Swordfish

1

teaspoon sea salt

1/2

teaspoon coarse black pepper

3

tablespoons extra virgin olive oil
Preheat grill to medium-high. Rub surface of fillets with olive oil and season with salt and pepper. Let it rest in the refrigerator for at least 5 minutes. Then, arrange fillets on grill rack, cover, and grill until flesh is opaque, 4 to 5 minutes per side. Slide fillets off grill and onto a platter or individual plates. Top with some mango salsa, letting the some of the mango salsa cascade down the swordfish fillet onto the plate. May be served with steamed rice or a steamed vegetable medley.
Jump to

Comments

(

2

)