Lemon Glazed Turkey Meatballs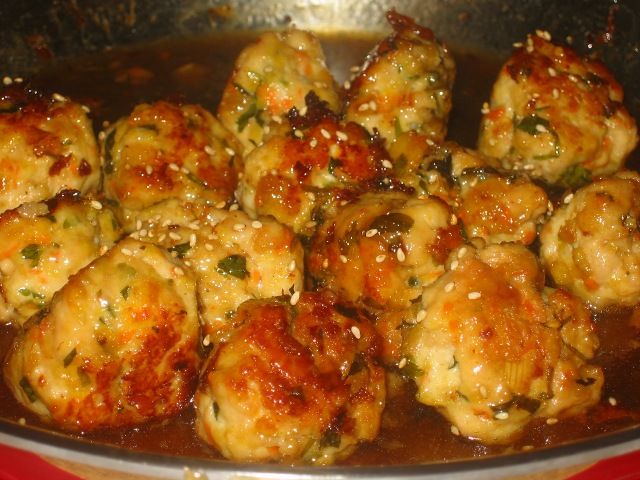 Author Notes: Inspired by flavors I love, these meatballs are initially browned and crisped on the outside, then baked with a sweet & tangy lemon glaze. So versatile, shape them large for a dinner or small Hors d' Oeuvre size, and serve with a toothpick; either way they are delicious if you ? lemon! - lapadia
Makes 16 medium meatballs or 32 cocktail size
MEATBALL INGREDIENTS – Preheat oven to 350 degrees
1 tablespoon grated fresh ginger

1/3 cup shredded carrot

1/3 cup chopped green onion

2 tablespoons parsley

2 cloves smashed garlic

1/2 teaspoon red pepper flakes (optional)

1/2 teaspoon salt

1 oz. fresh bread cubes

1/4 teaspoon toasted sesame oil

1 egg white lightly beaten

1 lb. of ground turkey (or a ground meat of your choice)

Safflower oil for frying

Vermouth to deglaze

Toasted sesame seeds to garnish
INSTRUCTIONS
Preheat oven - 350 degrees.
In a large bowl add the turkey and egg white; set aside.
In the bowl of a food processor, pulse the ginger, carrot, onion, parsley, garlic, red pepper flakes, salt, bread cubes and sesame oil a few times to mince and incorporate. Add to the turkey mixture, toss to combine. Gently shape into 16 medium size balls or 32 cocktail size.
In a 12-14 inch oven proof skillet, heat the oil over medium high heat. Working in batches, if needed, add the meatballs and cook until brown on the bottom, about 2 minutes. Turn the meatballs over and brown the other side. Place the balls on paper towels to soak up some oil, deglaze the skillet with vermouth and add the meatballs back, place in the preheated oven to bake for 15 minutes.
In the meantime, make the lemon glaze (adapted from a Martin Yan recipe): In a sauce pan, whisk together 6 tbls. honey, 2 tbls. plum sauce, zest from one lemon, ¼ cup fresh lemon juice, its pulp and salt to your taste. Bring to a boil over medium heat; add ½ tsp. cornstarch dissolved in 1 tbl. water and cook, stirring until sauce boils and thickens.
After the meatballs have cooked for 15 minutes, pour the lemon glaze over the top, coat all sides. Bake another 15-20 minutes, baste halfway through.
Remove from the oven, baste, garnish with sesame seeds.
Jump to

Comments

(

22

)
Tags: Entrees