28
Save
If you like it, save it!
Save and organize all of the stuff you love in one place.
Got it!
If you like something…
Click the heart, it's called favoriting. Favorite the stuff you like.
Got it!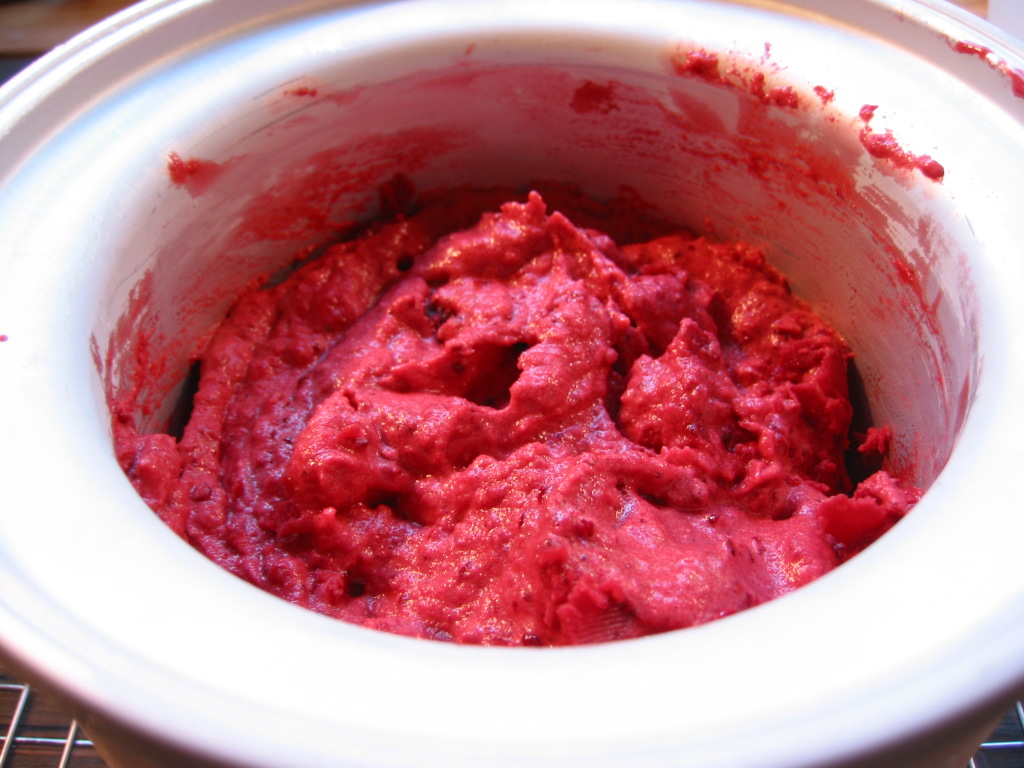 Author Notes: The little Wild Blackberries, without a doubt are the crème de la crème of wild berries; aka Wild Mountain Blackberries or Rubus ursinus, the scientific name.

These are not the blackberries that grow abundantly on tall bushes in backyards and hillsides. They are little wild berries growing closer to the ground, with tiny seeds unnoticeable compared to the other blackberries.

They are absolutely the best, the smell and taste screams summertime!!

We are waiting for these little berries on our property to ripen, the only blackberry native to the Pacific Northwest. I've noticed they can be purchased at Amazon - a bit pricey but for this recipe and the right occasion, worth it as far as I am concerned.

**I was inspired by the Ultimate Ice Cream book and originally made a berry sorbet of theirs as written before testing and then modifying the liquid glucose content I've used here.

Pictured is the sorbet I make every year once they are ready…unless the wild critters, including bear, get to them first!
- lapadia
Makes 1 quart
Instructions using a Cuisinart Yogurt-Ice Cream & Sorbet Maker

Place the freezer bowl in the freezer overnight

1/2 cup water

1/4 cup coconut nectar (or Karo corn syrup as originally written)

1/3 cup sugar

3 cups blackberries

1 tablespoon fresh lime juice

2 tablespoons Creme de Cassis

1 tablespoon Vodka

Note: Coconut Secret-coconut nectar can be found at Whole Foods, online, or in most grocery store health food sections.
Combine the water, coconut nectar, and sugar in a small sauce pan. Place over medium heat and stir until the sugar dissolves. Raise the heat and boil without stirring for 1 minute.
Turn off the heat and let the mixture cool completely.
Place the cooled mixture, blackberries, lime juice, liqueur and Vodka in a blender. Process until the mixture is smooth. This will take about 30 seconds.
Pour the puree through a strainer to remove the seeds – or your personal choice. I don't strain the little seeds.
(If using the little "wild" blackberries don't really need to strain to remove seeds)
Chill until cold (about 1/2 hour).
Turn the machine ON, pour blackberry mixture into freezer bowl and mix until thickened, about 25 – 30 minutes.
The sorbet will have a soft texture.
Cover and place the freezer bowl in the freezer or transfer the sorbet to an airtight container and freeze until firm.