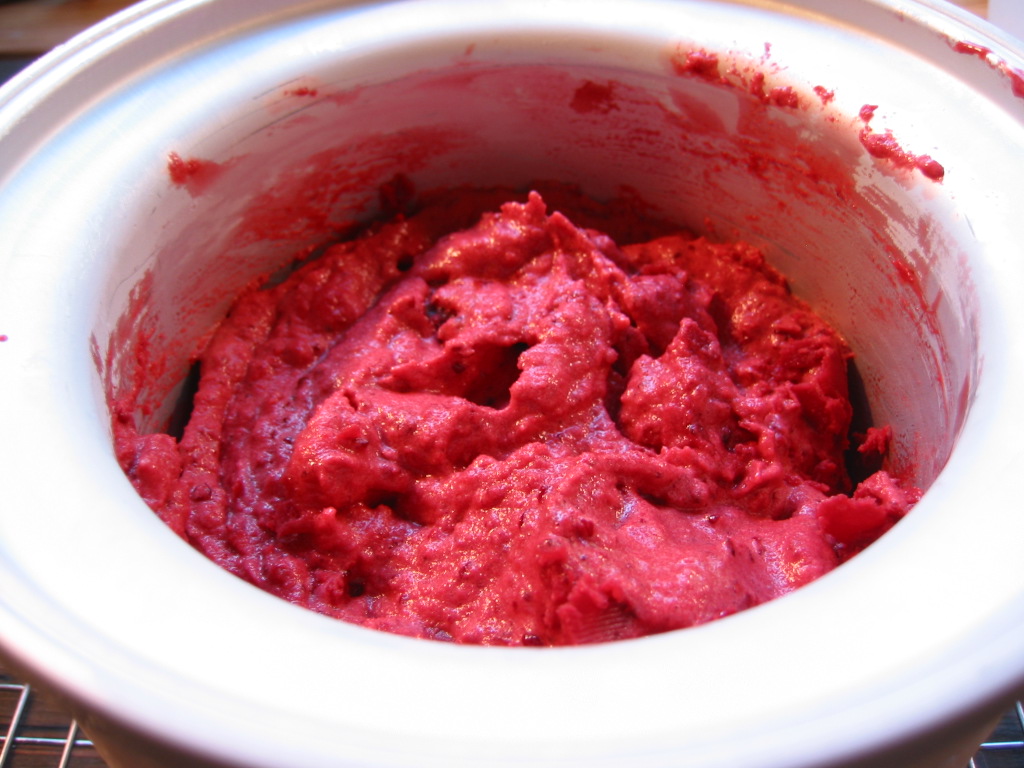 Author Notes: The little Wild Blackberries, without a doubt are the crème de la crème of wild berries; aka Wild Mountain Blackberries or Rubus ursinus. We are waiting for the little wild berries on our property to ripen, pictured is the sorbet I make every year once they are ready.

The little Wild Berries are absolutely the best…the smell and taste screams summertime!!
- lapadia
Makes 1 quart
Instructions using a Cuisinart Yogurt-Ice Cream & Sorbet Maker

Place the freezer bowl in the freezer overnight

1/2 cup water

1/4 cup corn syrup

1/3 cup sugar

3 cups blackberries

1 tablespoon fresh lime juice

3 tablespoons Creme de Cassis
Combine the water, corn syrup, and sugar in a small sauce pan. Place over medium heat and stir until the sugar dissolves. Raise the heat and boil without stirring for 1 minute.
Turn off the heat and let the mixture cool completely.
Place the sugar, syrup, blackberries, lime juice and liqueur in a blender. Process until the mixture is smooth. This will take about 30 seconds.
Pour the puree through a strainer to remove the seeds – personal choice.
(If using the little "wild" blackberries don't really need to strain to remove seeds)
Chill until cold (about 1/2 hour).
Turn the machine ON, pour blackberry mixture into freezer bowl and mix until thickened, about 25 – 30 minutes.
The sorbet will have a soft texture.
Cover and place the freezer bowl in the freezer or transfer the sorbet to an airtight container and freezer until firm.